Trouble in store?
Spending on storage is soaring. But a major new study suggests that many firms don't understand what they are buying. Karl...

Download this free guide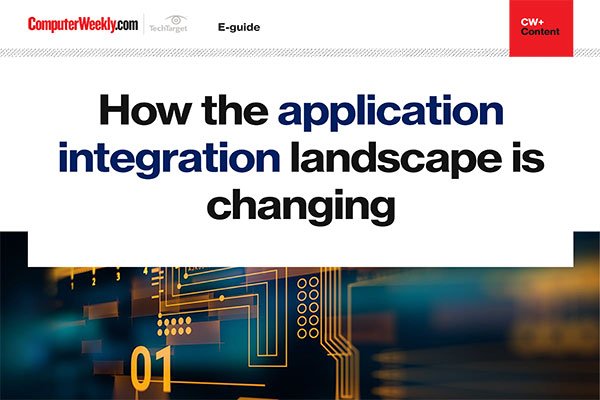 8 ways in which the application integration lanscape is evolving
We take a look at how technologies like Distributed Computing and the Common Object Model have been refined into web services, service-oriented architecture and composable applications and microservices.

By submitting your personal information, you agree that TechTarget and its partners may contact you regarding relevant content, products and special offers.

You also agree that your personal information may be transferred and processed in the United States, and that you have read and agree to the Terms of Use and the Privacy Policy.

Spending on storage is soaring. But a major new study suggests that many firms don't understand what they are buying. Karl Schneider reports



A memorable sketch from the hit 1980s satirical TV programme Not the Nine O'Clock News featured a technically naive customer trying to buy a hi-fi system in a specialist shop. The sadistic shop assistant took great delight in ridiculing the customer's ignorance of hi-fi jargon, bamboozling him with talk of woofers, tweeters, Dolby and direct-drive turntables.

A new study, one of the biggest of its kind ever conducted in the UK, suggests that hard-pressed senior IT professionals in UK firms may be in a similar position to that hi-fi customer when it comes to buying modern storage systems.

While demand for storage capacity continues to grow at double-digit rates in most UK firms, the study, conducted among more than 600 senior IT professionals by Computer Weekly and specialist storage consultancy Posetiv, paints a picture of an IT community that is struggling to understand the expanding jungle of jargon thrown up by the latest storage architectures and protocols.

The IT professionals questioned say they are struggling to manage their storage infrastructures, worried by lack of standards, confused by storage technology choices and suffering from a lack of access to people with the right skills.

Despite the current uncertain economic climate, the recent storage spending boom shows no sign of abating, according to the study, which was conducted after the 11 September terrorist attacks on the US. UK firms expect to spend 15% more on storage next year on average than they did this year.

And it is the organisations that are already spending the biggest slice of their budgets on storage which are expecting to increase spending on storage the most next year. On average, respondents said their firms spend about 12% of their IT budget on storage. The smaller spenders, those spending less than 10% of their IT budget on storage, expect to increase spending on storage by 10% in 2002. But the quarter of firms who already spend 11%-20% of their IT budgets on storage expect their storage spending to leap by 16%. And the 10% of firms in which storage accounts for more than 20% of their IT budgets say their storage bills will shoot up by 27% next year.

When asked what is driving this growing demand for storage capacity, respondents say it is both existing applications soaking up more megabytes and new applications creating new demand. In smaller firms, existing applications are slightly more significant in driving storage demand, while new applications are having a marginally bigger impact in larger firms.

The biggest culprit is e-mail, singled out by almost two-thirds of respondents as one of the applications most responsible for pushing storage capacity to the limit. That will come as no surprise, given the importance of e-mail to most businesses today. A separate study conducted by Computer Weekly earlier this year found that most organisations now see e-mail as something that the business depends on to operate effectively. As more and more business processes rely on e-mail, the result is a growing mountain of documents that have to be stored, often for legal reasons.

"With about 80% of the people we talk to about storage, messaging is the first thing they raise," says Graeme Rowe, marketing director at Posetiv.

The research suggests that general office applications, such as word processing and presentation packages, are the second biggest data dumpers, followed by Internet-related applications other than e-mail. The latter is particularly significant in the public sector, as central and local government struggle to meet government targets for boosting the proportion of services available online.

For all of these applications, their ability to swamp existing storage systems is heightened by the growing use of megabyte-munching data types, such as images and video.

Not surprisingly, this accelerating demand for storage capacity is causing headaches for IT managers.

Top of the list of storage-related concerns is the problem of managing storage capacity, cited by 70% of the IT professionals surveyed.

"Seventy per cent is astronomical", remarks Rowe. But he expects storage management to feature strongly in the list of user headaches. "If you talk to all the vendors their market offerings are concentrating more and more around management tools," he notes.

The cost of buying storage and the cost of managing it comes joint second in the league table of users' storage concerns.

Graham Titterington, storage specialist at analyst Ovum, says this betrays a lack of understanding among storage users. "The message that management costs far outweigh hardware cost hasn't got through yet. Managing storage is seen as difficult, but not necessarily expensive. It seems that IT staff are not separating out the time they spend on storage."

Confusion over technology is cited by almost one in five IT professionals. In the largest firms, those with more than 1,500 staff, the proportion who say confusion over technology is a major concern rises to one in four.

"I blame the suppliers," says Rowe. "I don't think they give effective advice. It's like selling pensions - you can sell anything you want because people don't understand what they are buying. I think in a lot of cases it's the same with storage."

The lack of understanding of storage technology is highlighted when IT professionals are asked how well they understand the technical jargon used by storage suppliers.

Almost a third of those questioned say they do not know what a storage area network (San) is - and nearly half of those say they have not even heard of the term. The proportion who express ignorance is even higher for network-attached storage (NAS), direct-attached file system (DAFS), storage wide area network (Swan) and network data management protocol (NDMP) - in the latter two cases only about a quarter of senior IT professionals say they have any understanding of the terms, and half say they have never heard of them.

Interestingly, 45% of respondents say they have no understanding of direct-attached storage (DAS), even though this simply means the traditional storage architecture in which storage capacity is directly associated with the server running an application.

The study suggests that many IT professionals see their lack of understanding of storage technologies as a problem. Less than one in five agree strongly that they understand these technologies well enough to do their job, although a further 42% agree slightly.

Perhaps related to their confusion over technology, the vast majority of organisations say they have no access to specific storage expertise, either in-house or externally.

More than three-quarters of firms depend on general in-house IT expertise when making storage decisions. One firm in six relies on the expertise of a general IT outsourcer or consultant. Less than one in five have an in-house storage expert, and even among the very largest firms this figure only rises to just under one in four. Only one organisation in 20 makes use of an outside storage specialist.

One respondent in six say a lack of skilled people is one of the biggest storage-related concerns in their organisation. And almost a quarter agree either strongly or slightly that their organisation suffers because it does not have access to adequate storage expertise.

A significant number of those questioned say they are concerned about the lack of effective technical standards for storage systems. Nearly half agree, to some extent, that a lack of widely-used technical standards in storage products is a significant problem.

Rowe says the lack of technical standards is a growing concern among storage users, driven by the growing significance of storage in IT systems. "Two or three years ago people didn't give a damn about lack of standards because storage wasn't that important," he says.

Given the lack of understanding of the latest storage technologies, it's not surprising that the take-up of San and NAS architectures is relatively low. Only 8% of respondents say Sans are widely used in their organisations, and less than a quarter say they are making any use of this type of storage architecture. The figures for NAS are slightly higher - 10% and 31% respectively.

"The level of NAS and San take-up is worryingly low," Rowe remarks. "More people should at least consider using them in future."

Rowe says that although the initial cost could be high, the latest storage architectures justify themselves through improved back-up and restore, better data accessibility and by helping firms to avoid losing control of storage added piecemeal around the business.

"They could be preparing a storage management nightmare for the future," he warns.

The preponderance of NAS over San does not surprise Rowe. "We're installing a lot more NAS than San," he says. "This comes back to what people are advised - if they can get away with a NAS, they should. It's cheaper to buy, less complex and easier to manage."

San usage is lowest among manufacturing firms. As you would expect, bigger firms are much more likely to have implemented a San than smaller ones. NAS usage is particularly high in the public sector.

When asked at what stage in the development of a new IT system they consider storage options, just under half say at the initial scoping and requirements specification stage.

"That's much better than I expected," comments Rowe. "Eighteen months ago, most were considering storage at the system design stage, or even during implementation - they would just go out and get it as an off-the-shelf product."

Rowe says many firms have had their fingers burnt buying storage as an afterthought, ending up with escalating costs and storage management headaches. Perhaps this explains the larger than expected number who now say they consider storage up-front. Whatever the reason, only 7% say they now leave storage considerations until system implementation, and only 6% say storage gets thought about after the rest of the system is in place.

However, most firms say they still do not measure the return on investment for storage spending, either separately or as part of the overall spending on a system.

"This is probably not surprising, since most people regard storage and IT as a must-have and the issue is which option is most cost effective - not shall we have it at all," says Titterington.

Rowe says most firms could not measure return on investment for storage effectively, because most firms do not have an effective measure of the overall cost of storage. He says this is because most firms do not have effective management tools. But he expects this to change in future. "As storage management tools become more complex, IT departments can charge back to business units based on the amount of storage they use," he points out. "That will become more common as storage service providers start to kick in. And it will be much easier to see how much is spent on storage."

In summary Rowe says, "People understand there's a real need for storage in the future - a higher need than for other areas of IT in the organisation. But there's a worrying trend in the lack of skills and understanding - they don't know what is right for them to put in place."

Rowe believes storage suppliers shoulder at least some of the blame for this. "Has industry been deliberately not informing users of how to make the best use of storage and the value of having open standards? Vendors probably want to lock users into proprietary technology."

The background to the survey
Computer Weekly and Posetiv, the UK's biggest independent storage consultancy, questioned a sample of senior IT professionals via e-mail during the week commencing 22 October. The sample was split across all main industry sectors, and covered large, medium and small size firms. The survey was completed by 613 respondents. The results were analysed by independent research company NSM Research.

Talking storage jargon
The study found that there was a widespread lack of understanding of the following storage technology jargon. How many could you explain?


San (storage area network) - high-speed networking architecture based on centralised storage that interconnects servers and data stores at gigabit speeds via a dedicated Fibre Channel connection. It provides a single point of storage accessed by multiple servers



NAS (network-attached storage) - a NAS device is a dedicated storage server that allows more disc storage capacity to be added to an ordinary local area network at a relatively low cost.



DAFS (direct-attached file system) - a protocol that lets a program send information directly to a network system without relying on a computer's operating system to manage the communication. DAFS will let software talk directly to data files stored in peripheral devices



Swan (storage wide area network) - a San distributed across two or more geographically-separate sites - the storage equivalent of a Wan



NDMP (network data management protocol) - open standard protocol that defines a common architecture for the way different file servers on a network are backed up. It allows the central back-up application to back up different file servers running different platforms and versions.


Spotlight on storage area networks
The study focused on firms that had implemented a storage area network (San), looking at the factors which had driven them to invest in the technology and the problems they encountered. Most of the 139 organisations that had built a San say their main objectives were to improve the manageability and accessibility of corporate data. Almost half say they wanted to reduce the cost of ownership of storage systems, and 29% say a key objective was to reduce back-up and restore times. Larger firms are more likely than smaller ones to cite reducing cost of ownership as a reason for investing in Sans.

Lack of skilled people emerges as the most widespread problem firms encounter when implementing a San. Almost half of all 139 organisations with Sans say they were affected by this. The biggest firms are most likely to suffer from a lack of skilled people. Not surprisingly, more than a third mention the initial cost as a problem. But 30% complain of the lack of interoperability between products, and a quarter cite lack of software integration as a significant problem. "People recognise that they can't link their IBM box with their EMC box with their HDS box," says Rowe.

He says this problem will not go away in the short term, "Among the hardware vendors, you'll get little groups working together. But we won't see true virtualisation for a number of years."

Rowe warns that firms planning to implement a San need to think carefully about how to manage it. "We're hearing stories of people who have implemented Sans, then turned them off and gone back to their original storage architecture," he says. "It all comes down to having the right management tools in place. Unless you have effective management tools it's a nightmare to manage."
Read more on Integration software and middleware