Successful first year for BCS in Scotland
The Scottish Parliament and Executive is not alone in promoting Scottish issues. BCS members in Scotland are busy flying their...

Download this free guide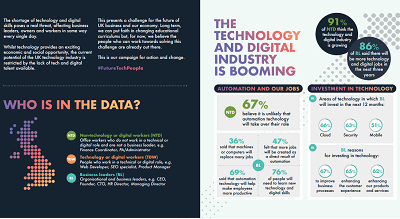 Infographic: How to future-proof UK technology
There is no doubt that the technology industry is booming right now, bringing with it exciting social and economic opportunities. However, there is a real fear that the UK industry may be stunted due to the lack of talent available. This e-guide helps to break down the future fears and expectations of dozens of business leaders and tech workers.

The Scottish Parliament and Executive is not alone in promoting Scottish issues. BCS members in Scotland are busy flying their own flag, writes John Kavanagh.



Members are approaching the first anniversary of getting together under a formal banner - BCS in Scotland - and are looking back on a highly active start.

The subcommittee has responded to the Freedom of Information Bill going through the Scottish Parliament, had a stand at a two-day industry conference, started work on a competition for schools and colleges, elected a chairman and Webmaster, and put together a proposal to the BCS for a full-time staff member for Scotland.

BCS in Scotland was formed by the Scottish branches - Edinburgh, Glasgow, Tayside, Aberdeen and Inverness, a sub-branch of Aberdeen - to give the society in Scotland a stronger local voice, especially in the light of government devolution.

"In the past, branch chairmen might have been reluctant to comment on the society's behalf when asked for an IT view by the Scottish executive, but now there is a body it can talk to," says Iain White from the Glasgow Branch, who has been elected chairman of BCS in Scotland.

"If BCS in Scotland didn't exist the society wouldn't have contributed to the Freedom of Information Bill, for example. In addition, the Scottish courts sometimes want IT experts - and they have to be people who know Scottish law."

BCS in Scotland represents more than 2,500 members. Its committee is currently made up of the branch committees."The impetus came from the branches which are all very keen, as is BCS headquarters," says White.

Meanwhile, events for BCS Young Professionals Group (YPG) members in Scotland are being planned by a new YPG subgroup there.

YPG-Scotland is bringing together the group's representatives to highlight, develop and support activities that relate to members in Scotland. It is expected that the group will provide support to the branches and the YPG national committee. Plans already include a Scottish launch of the Worklink work placement service, plus a quiz for teams from across Scotland.