Cloud computing adoption remains tepid
According to a recent cloud adoption survey, the value of server virtualisation may be a no-brainer, but the cost benefits of cloud computing aren't widely understood.
If cloud computing is the buzz phrase of the moment, respondents to a recent survey indicate that it has yet to become part of users' day-to-day IT management strategy.
According to TechTarget Inc. and SearchVirtualDataCentre.co.UK's "Cloud Computing Adoption Survey 2011" of 205 IT professionals, cloud computing remains a cautious experiment among a minority of respondents. Conversely, server virtualisation has gone mainstream as a cost-saving measure and a means to promote data centre efficiency.
Virtualisation platform choices
While it may be unsurprising, VMware is still the dominant player in the virtualisation market, though Microsoft's share of the server virtualisation market is expanding. More than 76% of respondents identified VMware -- vSphere, ESX, ESXi or VMware Server -- as their primary platform, whereas only 13% identified Microsoft's offerings -- Virtual Server, Hyper-V and Hyper-V R2 -- as their primary platforms.
In a similar TechTarget survey conducted by SearchServerVirtualization.com in 2010, VMware garnered 67% of the market and Microsoft Hyper-V 12%. Citrix Systems Inc.'s XenServer netted 3% and open source Xen 1%. No other platform reached the 1% mark.
So while VMware is still the dominant virtualisation provider, it has begun to
encounter competition from Microsoft Hyper-V. And the server virtualisation market is large enough for more than one vendor to become a significant player.
Similarly, nearly 80% of survey respondents predicted that they would increase their use of virtual machines in production, indicating that this method of server consolidation has become mainstream as a means to reduce costs, save on data centre physical space and energy consumption and improve data centre automation and management.
Cloud computing
The survey's picture of cloud adoption is less enthusiastic, however. The market and users are still sorting out what cloud computing means, how it works and the business benefits they can garner from this infrastructure model. The gap may also be increasing between "cloud vision" and "cloud execution," where various vendors and experts are pushing the cloud vision, but most IT users still need to be convinced. A quick review of the data explains the situation.
Among respondents, nearly 60% have no short-term plans to try public or private clouds, with only 26% actively using public or private clouds today (see Figure 1). A majority of people still need to be convinced that cloud computing offers cost, management or strategic business benefits.
Figure 1: Cloud computing adoption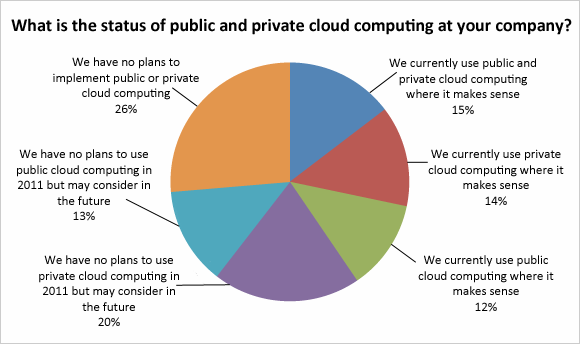 So why are users tepid on cloud adoption? One of the clear answers is data security (see Figure 2). When asked "What is the biggest barrier to adoption of public cloud computing services?" respondents expressed common anxieties, including "information leakage" (24%) and compliance and audit trails (24%) as their primary concern.
Figure 2: Obstacles to cloud adoption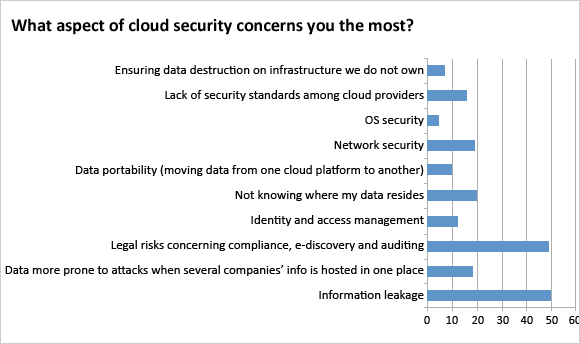 But of course, concerns other than security stand in the way of adoption as well, including fears about vendor lock-in (10%). Users are increasingly concerned that their technology choices may trap them into a cloud architecture that is costly or falls out of favor.
Yet another concern is the business value of the cloud model. Cloud computing may ultimately improve data centre operational efficiency and bring cost savings. But our survey suggests that users are unconvinced by the touted business benefits of cloud computing, with nearly 20% saying that the cost-benefit is unclear.
By contrast, given that many responding organisations have run out of space and power, the value proposition of server virtualisation has become widely accepted.
Figure 3: Users are concerned about security, but they also question the value of cloud computing.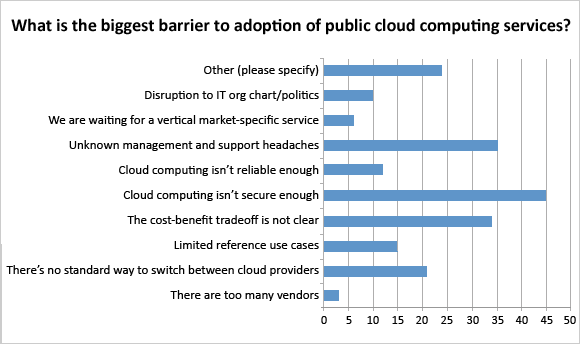 Our survey also indicates that cloud computing cannot be narrowly defined by virtualisation -- and respondents have a more holistic view of the cloud. Among respondents, 40% said that the limits of management tools has also been a barrier to adoption.
The survey data also suggest that many businesses aren't yet sufficiently virtualised to be ready for cloud computing. So their first order of business is to reach a level of maturity with virtualisation before embarking on a cloud project. Vendors should also take note of this finding: For users, building a cloud layer based on virtualised resources alone is a nonstarter and cloud providers should consider how to integrate with the physical world more closely.

The business value of cloud computing
Cloud computing can address the problems of both smaller and larger enterprises. Small and medium-sized enterprises may turn to cloud computing as they come to realise that the days of hosting their own physical equipment are over. Increasingly they will come to recognise that to grow their businesses without increasing capex costs, they need to outsource their compute provider.
Conversely, larger enterprises often turn to cloud services to help with seasonal peak load problems. But both business types -- large and small -- test and validate applications to prevent degradation of service. That's because 99% of their workloads remain on-premises, and the 1% that is "hosted" by a public cloud vendor must communicate back to a corporate data centre.
Given this 1% figure, you can see how far we are away from the casual drag-and-drop view of the world that some cloud visionaries espouse. Most important, though, enterprises themselves have yet to be convinced that cloud computing is ready for prime-time production-level workloads or to see the cost savings of the model.
This article is part of our package on cloud computing trends.
Mike Laverick is the author of the virtualisation blog RTFM Education, where he publishes free guides and utilities for VMware users. Currently he is writing a book on building a cloud with VMware vSphere as the foundation.