REVIEW: NetGear ReadyNAS NVX
NetGear's ReadyNAS NVX is a solid unit that will only be enhanced b the company's recent appointment of a pre-sales champion to develop solutions for its channel.
The first thing we noticed about the shoebox sized, four-drive, unit is that its display is on the bottom. This in no way impacts its performance, but does make it rather hard to perform initial configuration chores. Forget placing the array on the floor or low down in a rack (who has desk space for a four-bay array?) unless you are flexible enough for some sliding and squinting to get your eyes level with the display during setup.
We noticed this requirement because the unit took rather longer – about 7 hours – to format the supplied pair of 2TB drives into a RAID 1 array.
Once that chore was done, we got to use the quaintly-named "RAIDar" software to hook up the device to our test LAN. It quickly yielded an IP address that was easily mapped as a share drive on our Windows XP and Windows 7 test PCs.
The device's interface deserves a mention, as it is infused with decent lashings of AJAX that make it more fun and intuitive than other small business NAS we have tested. The setup Wizard was simple and we can imagine that a power user could easily administer the device in a small business.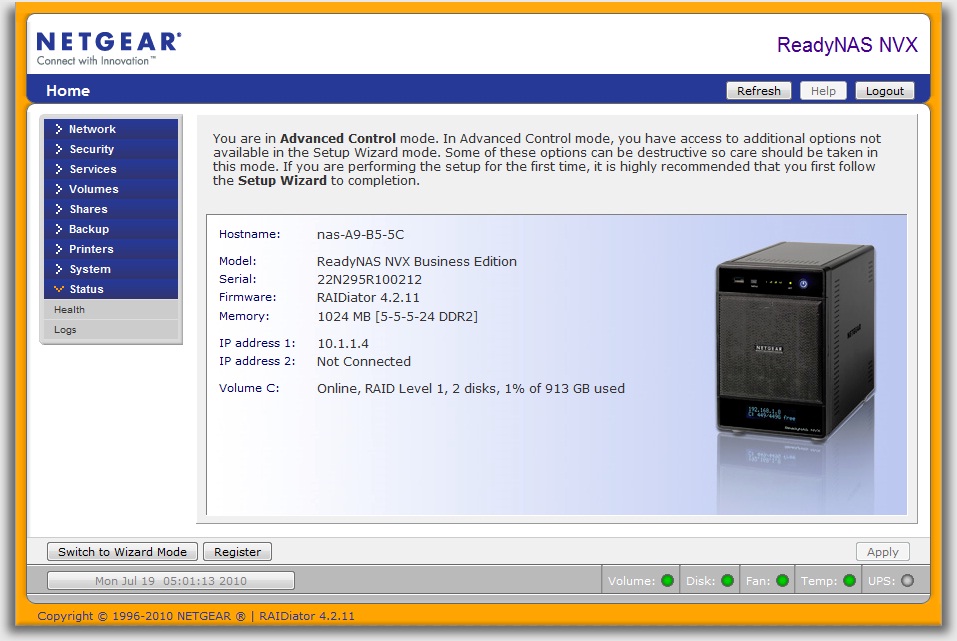 That business will almost certainly enjoy having the device on site.
We tested the DPS 2040 using Intel's free NAS Performance Analysis Toolkit and used the software's "Office Productivity" tests, a series of exercises designed to simulate users opening and closing files when using a NAS as a de-facto file server. The test was conducted from a single PC running Windows XP SP2, over a 100MbPs LAN operating on a four-port switch built into a Belkin ADSL modem/router/switch that was also connected to another PC, a network printer and several WiFi devices.
This test found the NAS achieved average throughput of 11.849MB/s during a test that saw the device perform 1.28 gigabytes of reads and 1.3 gigabytes of writes, faster than a Tandberg Data NAS we recently tested.
The NAS was also faster at reading and writing, achieving the former in under 4.2 milliseconds and the latter in 155 milliseconds.
Overall, this is an impressive compact NAS.
The fact that NetGear has made a local investment in a new pre-sales person will give it further appeal. SearchStorage ANZ met this representative this week and was briefed on plans to develop pre-tested configurations for various storage scenarios pertinent to the needs of smaller businesses.
Based on our limited tests of this device as a NAS, we imagine those configurations will prove more-than-useful.