ITV switches channel from Apple Xsan to Nexsan SATABeast Xi
ITV switches from Apple Xsan to Nexsan SATABeast Xi with MAID technology to improve data storage needs, as well as space, and power and cooling issues.
Television company ITV has dumped the Apple Xsan storage-area network (SAN) used in its Mac video production environment and replaced it with a 100 TB Nexsan Technologies SATABeast Xi array with massive array of idle disks (MAID) technology. The implementation, according to storage pros at ITV, has allowed the company to quadruple capacity and gain storage throughput increases of approximately 20% while staying within tight power and cooling concerns at its data centre.

The ITV.com division -- which provides video content for the company's website, interactive TV and mobile services -- had been using a 15 TB Apple Xsan with another 10 TB of capacity scattered in islands of direct-attached storage (DAS) and network-attached storage (NAS).

Download this free guide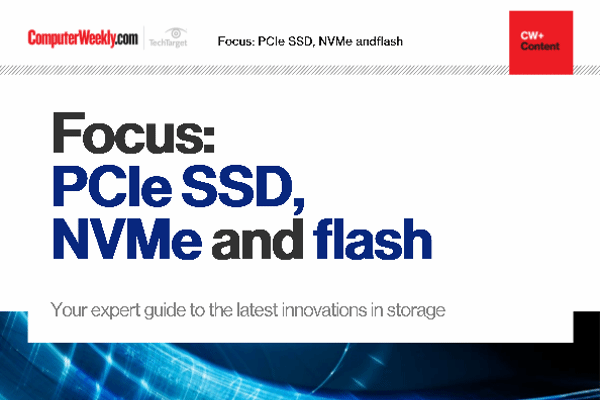 How to soar your storage performances?
The latest PCIe and NVMe technologies offer huge performance gains. Discover their features in this expert guide

By submitting your personal information, you agree that TechTarget and its partners may contact you regarding relevant content, products and special offers.

You also agree that your personal information may be transferred and processed in the United States, and that you have read and agree to the Terms of Use and the Privacy Policy.

The limitations of this setup became apparent when ITV decided to establish a centralised pool of storage for its users to edit video content. The existing Apple Xsan was running at 95% capacity, and the rest of ITV's storage was distributed and difficult to access and manage.

"A big problem was network throughput and storage capacity," said Chris Wood, technical manager for ITV future technologies. "We needed to be geared up to run multiple streams of video but were hitting performance problems." Wood's team resolved to implement a new storage infrastructure to provide 100 TB of capacity, but they were severely limited by the amount of power and space available in their data centre.

Products chosen for the new SAN were three Nexsan SATABeast Xi units with 100 TB of useable capacity. The devices have Fibre Channel (FC) connectivity running at 4 Gbps over a full mesh fabric with QLogic switches.

Key benefits of the Nexsan product have been to provide storage required in a small footprint, and to have power and cooling requirements one-third that of the competition's.

Capital cost was also a factor, Wood said. He estimated ITV.com paid 40% to 60% less than it would have on other products he considered. "The SATABeast is a very simple product. It's raw storage," he said.

Nexsan arrays feature AutoMAID, the vendor's take on MAID technology. It boosts density of storage capacity per rackspace unit, and improves power and cooling efficiency.

Vendor comparisons, power considerations

Wood's team looked at a number of products before settling on Nexsan's SATABeast Xi. The first to be examined was Promise Technology's VTrak, which is recommended by Apple for use with Xsan and its Final Cut Studio 2 video editing suite.

But VTrak -- along with most other array products in the class -- would have needed much more rackspace and maxed out the organisation's power and cooling capability, Wood said.

"To get the same level of storage capacity and throughput we would have needed three times the number of VTrak chassis to one Nexsan," he said. "We have a small data centre and couldn't exceed power, space and cost constraints."

Wood advises other Mac users to properly evaluate storage before opting for Apple's recommended products. "When Apple said we could only work with Promise, we didn't take it at face value and went and made further enquiries," he said.

ITV.com also looked at Hewlett-Packard's StorageWorks products, but they couldn't compete on cost and space, Wood said.

The company also evaluated the Avid Technology's Avid Unity Isis product, which is a storage solution specially designed for media production work. It's engineered to work with Windows, so costly amounts of back-end work would have been needed to translate between file systems in ITV.com's Mac environment, Wood said.

MAID technology is the name given to densely packed arrays of disk spindles that can be powered down when not being accessed. The resulting power savings, as well as the lighter load on cooling systems, have seen MAID systems gain traction as a way of attaining green storage in data centres. MAID isn't recommended for online storage because of relatively slow access times, but it's well-suited to nearline and archival storage applications.

Nexsan's AutoMAID allows users to configure spindles according to their need for data access and power savings. Spindles can be set to different levels of readiness in which they're allowed to slow down or stop altogether, giving varying response times that range from less than one second to approximately 45 seconds.
Read more on Storage fabric, switches and networks