UK data centre purchasing intentions by technology
What information technology products are UK storage managers buying for their data centres? Charts and tables from our purchasing intentions survey provide a quick overview.
What information technology products are UK storage managers buying for their data centres? Charts and tables from SearchStorage.co.UK's first purchasing intentions survey provide a quick overview.
UK favours low/midrange systems
Low- and midrange storage systems dominated the disk product purchasing of UK data centres in 2008. Some 37% of storage managers surveyed reported procurement of products such as SATA arrays or SCSI JBODs, while 42% reported buying Fibre Channel (FC) or iSCSI arrays, such as EMC Clariion CX, Hewlett-Packard (HP) EVA, IBM DS4000/DS6000 or equivalent products. Only 12% reported purchasing EMC Symmetrix, Hitachi Data Systems USP, IBM DS8000 or equivalent products.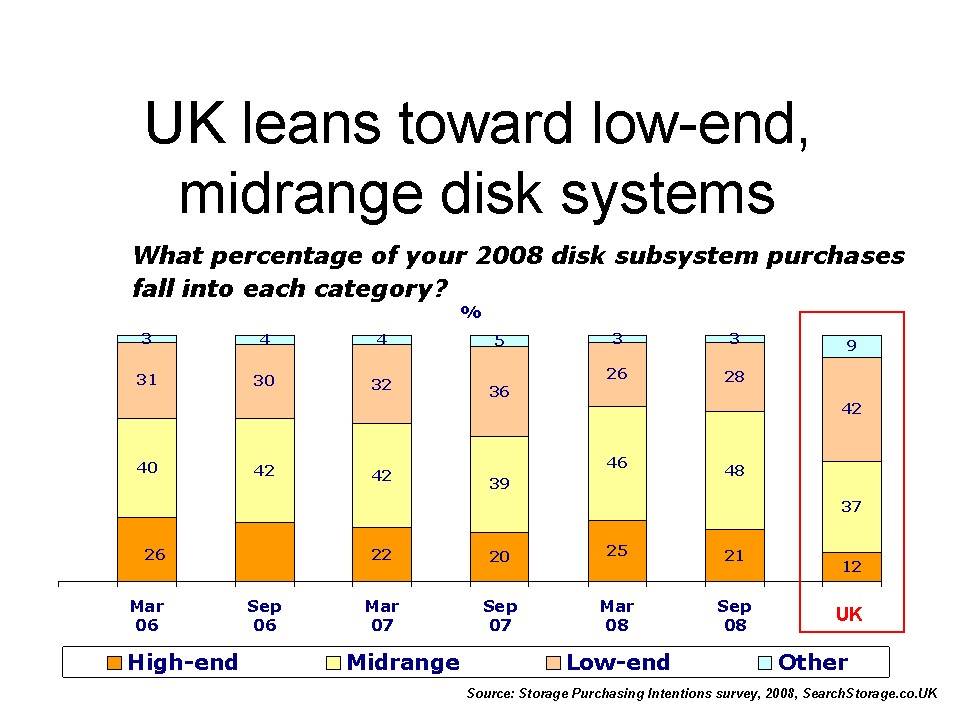 Fibre Channel, NAS deployment
The UK preference for low- and midrange systems is reflected in the figures for types of subsystems already deployed in data centres, where network-attached storage (NAS) dominated. That is emphasised when compared to US figures from September 2008 that show the rate of FC SAN deployment to be approximately double on the other side of the Atlantic.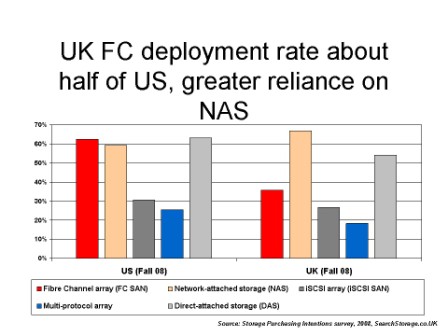 Favoured disk vendors
UK users' favoured vendors for disk systems differed significantly from their US counterparts. HP came out as the most favoured vendor in the UK, but was second to EMC in the US. In the UK, EMC didn't mirror its US dominance and came a distant fourth in the rankings.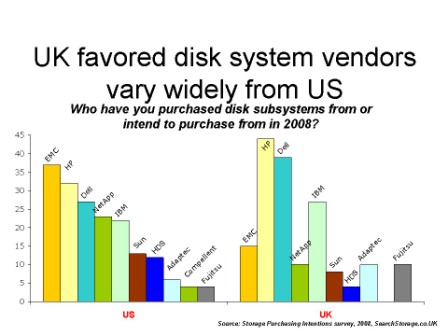 Reasons for choosing storage vendors
Some of the reasons for the differing levels of market penetration by storage vendors in the UK and US might have to do with the way in which storage managers select vendors in each country. Features and functions of storage products was the leading criterion in vendor selection for US purchasers. For UK storage managers the most common reason was that the vendor already supplied technology to the business.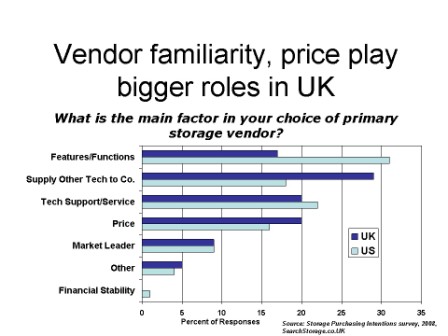 Favoured switch vendor
Cisco Systems was the clear leader as the supplier of storage switches to UK data centres, with Brocade far behind in second place. That situation contrasts quite dramatically with the September 2008 US survey where Brocade is a much closer second to Cisco.
iSCSI deployment
UK iSCSI deployment lags a little behind that of the US.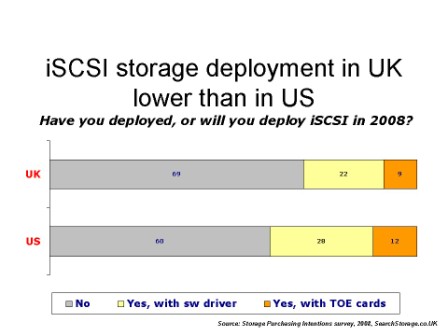 Favoured backup vendor
Symantec was the clear leader as a supplier of backup products in the UK with IBM placing second. Those rankings were the same as in the US survey, but the two vendors were significantly less favoured by UK data storage managers. Once again, EMC's rating among UK users lagged dramatically vs. US survey respondents. In the US, EMC was third most favoured backup vendor but was beaten into sixth place in the UK by CA, CommVault and HP. Interestingly, the main reason for UK users' choice of backup vendor was features and functions, which contrasted with other product categories.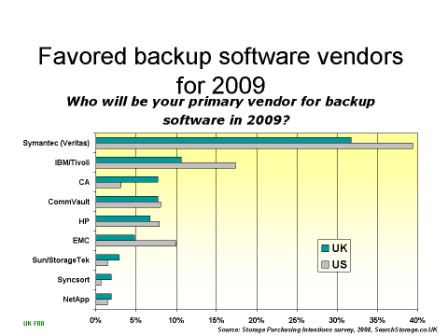 UK compliance spending lags US
UK spending intentions for compliance lags way behind the levels reported in the US survey in September 2008. While a third of US data storage managers expected spending on compliance to increase, the same amount in the UK expected to spend nothing.