What could a BT strike mean for SME IT?
Members of the Communication Workers Union (CWU) at BT have rejected a revised pay offer from the telco. A massive 50,000 workers could go on strike soon. This will be the first strike of this kind for more than 20 years.
Members of the Communication Workers Union (CWU) at BT have rejected a revised pay offer from the telco. A massive 50,000 workers could go on strike soon. This will be the first strike of this kind for more than 20 years.

Download this free guide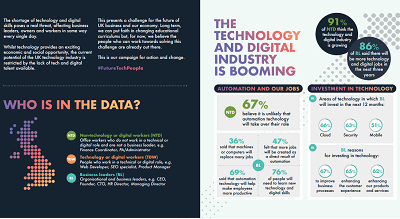 Infographic: Future-proofing UK technology
The current potential of the UK technology industry is restricted by the lack of tech and digital talent available. Read through this challenge for the future of UK business and our economy.
By submitting your personal information, you agree that TechTarget and its partners may contact you regarding relevant content, products and special offers.
You also agree that your personal information may be transferred and processed in the United States, and that you have read and agree to the Terms of Use and the Privacy Policy.
The CWU represents thousands of workers including engineers and call centre staff. If engineers strike in their thousands BT's network will not have its usual support. If problems then occur tens of thousands of people including businesses could lose their connections to the internet, which is an essential utility these days.
Last week the CWU moved forward with its plan to ballot its members at BT after it received a 2% pay increase offer. Depending on the ballot result thousands of non-managerial BT staff could walk out.
A spokeswoman at the CWU said the strike would have the biggest impact on the engineering side. "If there are network failures and engineers are on strike there will be problems."
She said call centres would experience problems if staff walked out in large numbers, but BT does have Indian operations to cover.
She added that BT was asking what skills managers had to find out where they can provide cover. "But in engineering if you have been off tools for six months you no longer have the capability."
Contingency plans
A BT spokesman said the company hoped to avoid industrial action but had contingency plans on place.
He said this included having staff to cover for striking colleagues.
BT has third-party support options. Openreach, which runs the BT network infrastructure, has support from third-party engineering firms such as Carillion and Telent. The staff of these companies will not be involved in industrial action.
But Stephen Alambritis, head of public affairs at the Federation of Small Businesses (FSB), said small businesses which depend on BT for their IT have major concerns. "This is worrying news for Britain's 4.8 million small businesses that are now heavily reliant on technology.
"This IT is heavily dependent on BT working flat out," he added. "BT is the main provider and contractor for many small businesses. If BT services go down, there could be lost business which could be fatal for some."
He said small businesses should prepare for the worst by contacting groups such as customers and suppliers in advance and having back-up technology in place. "3G dongles are the way forward and small businesses should have things like this in place anyway."
Neil Stephenson, CEO at ISP Onyx, said most SMEs are totally dependent on BT to connect to the internet. Onyx provides its customers with options about who they connect to but if they have a BT connection on premises they are still reliant on BT.
There will inevitable be problems during a strike he said and if there were fewer engineers BT would struggle to fix them quickly. He said that on average every customer has at least one "significant fault with BT equipment every 18 months".
Stephenson said a strike at BT coming so close to a recession might make SMEs look at alternatives to BT. "BT is in a very competitive market, like British Airways, and it seems like commercial suicide."
Alternative suppliers
Keith Humphreys, analyst at Eurolan, said 80% of SMEs probably rely on BT lines to run phones and broadband. "A lot of business is done online these days and if you are using broadband via a BT line band, a line goes down you will lose business."
He said SMEs should look at adding mobile data services as well as mobile telephone services. "They should make sure they have a 3G dongle in place because it does not cost a lot if you only use it occasionally."
If BT engineers vote to strike in large numbers disruption could hit thousands of UK businesses. It could be life threatening to small businesses that are totally dependent on BT and could leave a permanent scar on BT's business, if the strike raises the profile of its competitors.
Read more on IT supplier relationship management