Server-based RSS technology worth the money for SMBs
You can get consumer RSS technology for free, but spending the extra dough on enterprise RSS gets you more control and security.
Server-based RSS aggregators offer businesses better control and more security than the more common consumer RSS feeds. You have to dish out the money for it, but experts say for small to midsized businesses, the investment is worth it.
Some people will find that they oversubscribe to RSS and it becomes as bad as email.
Mike Gotta
principal analystBurton Group
Really Simple Syndication (RSS) is an XML-based technology that allows Web sites to send news and other content via feeds to users who subscribe to the content. Users typically use consumer Web-based aggregators from companies such as Yahoo, Google Inc. and NewsGator Technologies Inc. to collect and review these RSS feeds.

"Overall this technology is still somewhat at the emerging stage within enterprises," said Mike Gotta, principal analyst at Midvale, Utah-based Burton Group Inc. "2007 should see continued incremental growth, but the huge surge in XML syndication will be in the latter part of 2007 into 2008 as companies roll out infrastructure that have greater support for RSS and Atom." Like RSS, Atom is a form of XML-based syndication technology.

Download this free guide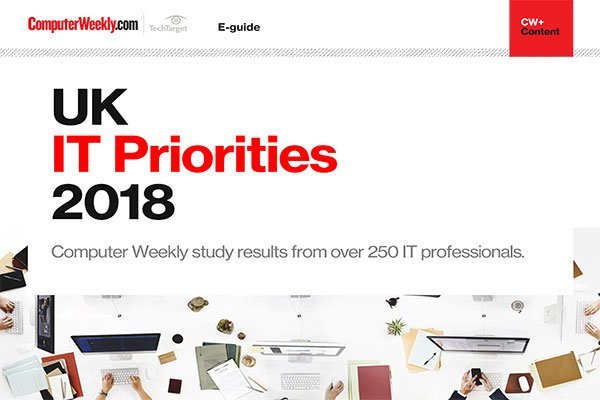 2018 UK IT Priorities survey results
IT organisations in the UK and across Europe are starting to accelerate the move to the cloud. Read more about the key areas in which senior IT managers are planning to invest in over the next 12 months.

Gotta said Attensa Inc., KnowNow Inc. and NewsGator have all launched enterprise RSS server products that channel RSS feeds into a customer's choice of email folders, Web-based applications or dedicated client applications.

"I would say that it enhances communication to a greater extent than collaboration as its first-order impact," Gotta said. "Where it helps collaboration is the community aspect around how feeds are tagged, shared and so on. What's nice about some of the server-based enterprise tools is that they can begin to act as connection mechanisms to help people who are subscribing to certain types of information to connect with each other. 'You and I work in different business units, but we discover that we subscribe to the same internal or external feeds, so perhaps we end up collaborating on related projects.'"

Art Kuntz, IT project manager at Polyform U.S. Ltd., a Kent, Wash.-based manufacture of buoys, boat fenders and accessories, used a consumer RSS aggregator up until about six months ago. Kuntz and his company's owner then decided to take a centralized approach to RSS feeds.

Kuntz said he and the owner had a lot of overlaps in the news feeds they received on their consumer aggregators, and several of the company's 34 employees were interested in RSS feeds. He purchased NewsGator Enterprise Server, which typically sells for $4,000, along with a user fee that usually begins at $4,000 for 100 users.

"We felt like we would like to be able to control our own feeds, what's allowed and not allowed in the company," Kuntz said. "And the other thing I really like about it, it feeds into an Exchange folder in each user's inbox, giving everyone an interface they're used to working with."

"The big thing for us was the smart feed technology," Kuntz said of a feature that monitors the Web for specified keywords, and feeds relevant content into RSS feeds. "That was always the problem I had with RSS feeds -- trying to find them, trying to find things you're looking for. It always seemed fairly difficult with the consumer version. I was also very interested in trying to publish our own feeds to our customers and our employees. This seemed like a good mechanism to let us funnel stuff into [Microsoft] Exchange folders that are easy for people to use."

Kuntz said he has feeds sent to his IT department to keep it up-to-date on new technologies. The owner of his company, on the other hand, uses feeds to track the financial markets and trends in manufacturing and marketing strategies.

"The sales manager uses it for the same kinds of things as the owner, but he's also monitoring trends in the marine industry in general."

Kuntz can strategically create news feeds on topics for specific groups of employees to help them with their job functions. For instance, his company has employees who are responsible for the color formulas in their products. He can send them all the same RSS feeds on trends and innovations in the chemical industry.

Jack Sinclair, COO of ReturnPath Inc., a New York-based email marketing services company, uses the NewsGator Enterprise Server to distribute internal reports to selections of his company's 150 employees.

"I'm a big fan of using channels for delivering information. In a company you have a lot of channels for delivering information into people's hands," Sinclair said. "I like RSS because you're able to list feeds and provide them to people internally. With email, it's harder to communicate. And RSS is much more powerful. I have an area where an administrator can go in and do targeted feeds."

With internal reports in the feeds, security was an issue for Sinclair. Otherwise he would have used a consumer RSS reader. "But because we had a lot of company-specific information that we were putting through the feeds, we wanted a little more control over who could see it and who could sign up for it."

Gotta, of Burton Group, said RSS offers people another channel for communication and information delivery.

"There are some companies (some quite large) that are aggressive when it comes to RSS. Financial services, for instance," Gotta said. He said RSS can have some pitfalls. "Some people will find that they oversubscribe to RSS and it becomes as bad as email."

Burton also sees a future where customers will want to use RSS technology to integrate with content and data from ERP and customer relationship management systems, "which means your RSS vendor needs an integration strategy to connect to a variety of back ends."

Let us know what you think about the story; email: Shamus McGillicuddy, News Writer
Read more on IT for small and medium-sized enterprises (SME)