Quality awards II: top midrange arrays
EqualLogic PS Series, joins backup winner BakBone in unseating established players for top honours.
As our survey results will show, users of the EqualLogic Corp. PS Series midrange array clearly feel they've purchased something special. Time will tell if the company can continue to deliver in a top-flight manner … but the top is always a good place to start.

Our survey is designed to allow smaller vendors to compete on an equal footing with larger, more established vendors. We're always curious to find out if any emerging vendor is developing a "cult" following that might indicate a "best-in-class" opportunity for IT buyers. If the results of our 2006 survey are any indication, storage groups may want to take a look at EqualLogic Inc.'s PS Series arrays, which topped a wide field of products and eclipsed last year's winner Sun Microsystems Inc./StorageTek FlexLine. EqualLogic's win is especially noteworthy because it wasn't in last year's survey.

In the 2005 Quality Awards midrange arrays survey, we were struck by the high scores products received, indicating across-the-board satisfaction. In that survey, overall product scores ranged from 6.77 down to 5.75. This year's scores fell back to earth a bit, but still demonstrate general satisfaction among all of the midrange arrays. EqualLogic's overall score of 6.00 was only .05 better that of Sun/StorageTek FlexLine (see fig. 1). EqualLogic lead the pack in four out of our five categories.

Sun/StorageTek FlexLine was a surprise winner last year, but its strong second-place showing this year proved that last year's results weren't a fluke. We separated the FlexLine and 6000 series in our survey, and the results were similar to those of last year, with the 6000 series dropping from fifth to sixth largely due to the addition of EqualLogic.

The biggest positional changes occurred with Dell's CX Series (Clariion) and Network Appliance's (NetApp) Inc. FAS series. Dell fell from third place last year to ninth place this year, while NetApp dropped from second to fifth. Both vendors saw their scores decline by more than a full point. Hewlett-Packard (HP) Co.'s StorageWorks Enterprise Virtual Array (EVA) and Hitachi Data Systems (HDS) Corp.'s Thunder 9500 V improved to third and fourth, respectively. HDS' fourth-place finish was three positions higher than in 2005. While EMC Corp.'s Clariion and Dell's Clariion didn't track together in 2005, they did in 2006.

The largest number of responses was for EMC Corp.'s Clariion, with 118 evaluations; HP EVA was second with 67. The most represented industry was financial services, followed by healthcare and government/nonprofit. The distribution of respondents by company size was weighted slightly toward large organizations. The breakdown here was 28.3% from small organizations (less than $100 million in revenue), 29.4% from midsized organizations ($100 million to $1 billion) and 42.3% from large organizations (more than $1 billion). The majority of respondents are in operational roles, with only 6% from senior management. Storage administrators comprise 24.9% of the respondents, and 16.8% are storage managers.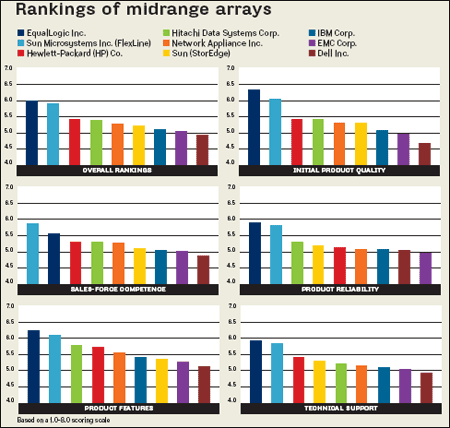 Product features and initial product quality, page 2.
Read more on IT for small and medium-sized enterprises (SME)