UK opens cyberspook school
The UK is getting a cyber-security school with the opening of a £30m centre to develop counter-measures to cyber attacks and e-crime at Queen's University,...
The UK is getting a cyber-security school with the opening of a £30m centre to develop counter-measures to cyber attacks and e-crime at Queen's University, Belfast.

Download this free guide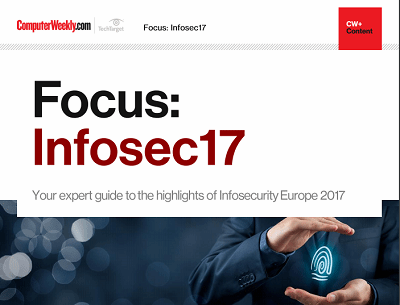 From forensic cyber to encryption: InfoSec17
Security technologist Bruce Schneier's insights and warnings around the regulation of IoT security and forensic cyber psychologist Mary Aiken's comments around the tensions between encryption and state security were the top highlights of the keynote presentations at Infosecurity Europe 2017 in London.
By submitting your personal information, you agree that TechTarget and its partners may contact you regarding relevant content, products and special offers.
You also agree that your personal information may be transferred and processed in the United States, and that you have read and agree to the Terms of Use and the Privacy Policy.
The Centre for Secure Information Technologies (CSIT), which will employ 80 staff, aims to become one of the UK's top centres for cyber-security research.
John McCanny, who heads the centre, said the work is split into academic training and research towards PhDs and security industry engineering and product development.
CSIT's speciality research areas include ways of fighting botnet attacks by very high-speed content analysis and traffic filtering, pre-empting anti-social behaviour and street crime using real-time analysis of CCTV imagery to alert police, and using encryption to safeguard the trustworthiness of information stored electronically at home and in the workplace.
McCanny said the centre will set honey traps to lure attackers and develop an understanding of their attack methods. It will also explore "steg analysis" (where images of secret information can be hidden inside innocent pictures) to understand how secret information might be exported from inside a company without being detected.
Earlier this year the Cabinet Office said it would hire and train penetration experts to detect, repair and prevent cyberattacks from hostile countries. McCanny said the centre's master's course in computer security would provide training for such work.
The use of computers and networks to steal or compromise data deliberately or by accident costs the country several billion pounds a year, according to government figures.
Queen's University vice-chancellor Peter Gregson said 97% of UK businesses now rely on the internet and computer systems. "Cyber security is a global issue that affects us all. By coupling the pioneering research at CSIT with economic development, Queen's will secure the UK's position in cyberspace," he said.
The centre is one of the first Innovation and Knowledge Centres (IKCs) created in the UK. More than 20 organisations, including BAE Systems and Thales UK, will support CSIT's work over the next five years.
McCanny said the CSIT is a partial response to national security issues identified by the Obama cyber security review, as well as recent Cabinet Office and Chatham House reports on the subject.
The centre would also join forces with the TRUST centre at Berkeley University in California, Carnegie-Mellon University, which is home to the US computer emergency response team (US-CERT), ETRI, the Korean government's ICT R&D lab, and local universities such as Royal Holloway.
Read more on IT risk management