Logitech launch enterprise-quality mobile speakerphone
Today Logitech has introduced the Logitech Mobile Speakerphone P710e, a portable speakerphone that allows hands-free access to calls.
The device is suitable for individual use, or for a small group of people, inside or outside of the office, and is compatible with PCs, Macs, tablets and smartphones.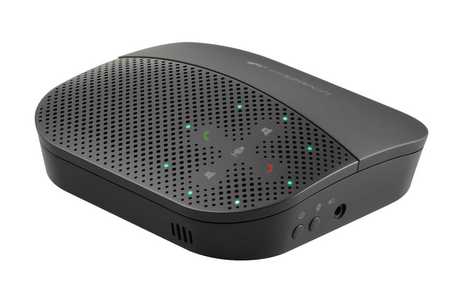 The device is portable to allow employees who work in a non-traditional office environment to turn any space into an "instant conference room".
The device claims to have 15 hours of battery life, and is the first mobile speakerphone to offer Near Field Communication (NFC), which allows easy connection to NFC-enabled devices to pair via touch. It is also Bluetooth enabled, and can connect to up to two Bluetooth mobile devices at the same time. With USB connectivity for Macs and PCs, you shouldn't have a problem with connectivity.
Also, to ensure an integrated experience with most unified communications platforms, the speakerphone can be used with Microsoft Lync, Cisco or Skype, or it can just be used for a simple face-time call.
Eric Kintz, senior Vice President of Logitech for Business, said: "Now professionals on the go or in small-group meetings can take advantage of a portable speakerphone with high-quality voice and ample battery life, making it simple to host conference or video calls from anywhere, at any time, on just about any device."
We will be getting our hands on one of these gadgets by the end of the week, so watch this space for a product review.