Iron Man 2 trailer is getting me excited - see it here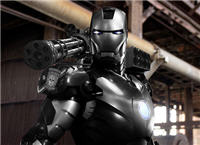 Forget Alice in Wonderwhatever, Iron Man 2 is for those that like their films to have robots smashing the crap out of eachother! Not some little girl on a mushroom trip.
Oh yes people, below is the new trailer for Iron Man 2 and I haven't been this excited about a film since Star Wars: A New Hope… ok slight exaggeration but the real question is why are you reading this text when you chould be watching the video!!