CES 2014: Panasonic announce new Toughpad FZ-M1
Panasonic's range of rugged devices has always been at the forefront of portable technology for rougher working environments, and it looks like the new Toughpad will be no different.
Toughpads have previously come in a range of sizes, including 7-inch, 10-inch and a massive 20-inch. The new Toughpad is a 7-inch model designed to be easily portable for people working in industries such as transport, retail and emergency services. With a 4th generation Intel Core i5 vPro processor, this fanless tablet is designed to provide high performance with low heat generation and power consumption.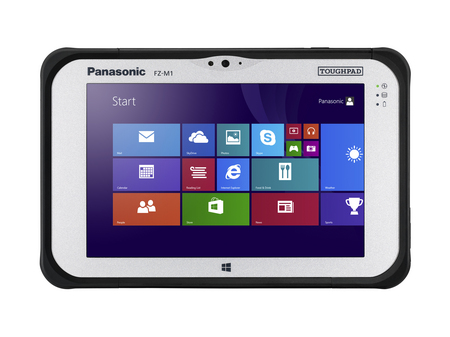 The Toughpad FZ-M1 weighs 540g and the strengthened glass houses an LCD touch screen with an anti-reflection layer to allow working inside and out. The touchscreen can also process up to ten finger touches at once. With optional business expansion models including NFC, smartcard reader and battery hotswap capabilities alongside the standard USB 3.0, headset and microSIM, the tablet can be adapted to suit the industry it is needed in.
And now for the justification for its "tough" label: the tablet can be dropped from 5ft, heated to 50°C, cooled to -10°C and is dust and water resistant. It might not be massively pretty, but it does what it says on the tin.
Specs
Resolution: 1280×800
OS: Windows 8.1 Pro (Windows 7 version available)
Processor: 4th generation Intel Core i5 vPro
Memory: 4GB (8GB optional)
Dimensions: 7-inch tablet, 18mm depth
The Toughpad FZ-M1 is due to become available in February 2014 for a starting price of £1,183.