Historical records from the birth of BS7799
Can you remember what you were doing sixteen years ago? I certainly can. I was burning the midnight oil churning out on drafts of the BSI document "A Code of Practice for Information Security".
On the eve of Infosecurity Europe I thought it would be interesting to look back and publish a few photographs from the 30th September 1993 press conference, launching the first version of the document that evolved as BS 7799 and subsequently ISO 27000.
The press conference was held at Shell Centre with representatives from Shell, BOC Group, BT, Marks & Spencer, Midland Bank, Nationwide, and of course DTI and BSI. Each company fielded a managing director. Unilever could not attend but provided a press statement.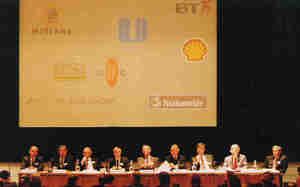 This first photograph shows the top table of managing directors fielding questions from the press.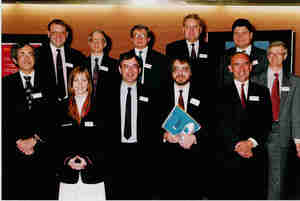 The second photograph shows the team who wrote the report, with a young looking David Lacey at the front. Can you identify any of the other characters?
Formal pledges of support were also given at the press conference by BP, British Aerospace, British Steel, Bull, Cadbury Schweppes, Cameron Markby Hewitt, Chelsea Building Society, Ciba Geigy, Digital Equipment Corporation, Reuters and TSB Bank.
Interestingly, I think Shell might have been the only company out of the group that actually went to implement the full standard and subsequent accreditation process.