Firms 'satisfied' with security suppliers but there is room to improve
(click on the image to enlarge)
IT security suppliers are doing a sterling job say European IT professionals. Nearly 80% of organisations surveyed by Computer Weekly and TechTarget say they are satisfied with their IT security supplier. However, the survey of over 250 IT security professionals in Europe and the UK, shows there is room for improvement. Only 11% say they are very satifisfied with their security supplier, while 17% are unsatisfied.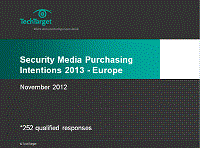 You can find out more about businesses' IT security priorities in 2013 by downloading our
in-depth report, exclusively for Computer Weekly readers.