Twitter - cleaning up its act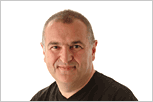 Thursday saw the updating of the Twitter UI and some its technology. At a time when Facebook is starting to look like an 'accident in a paint factory', the denizens of Twitter are producing a UI that's clean fresh and usable.
Well done Twitter, its been a long time coming. Facebook take note.