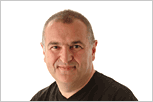 No it isn't !
I hate it when politicians and business leaders start response after response to interview questions with that expression.
It inevitably means 'that's a great question but I am going to dribble out a load of marketing flim-flam that has nothing doing with the question you have asked'.
They would be better of respond 'stock answer N' and then play a tape of the rehearsed hype.