Secret Santa 1 - What'll be Hot in 2009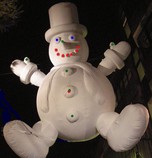 My friend Jim Moffat has sent me a collection of links to "What'll be Hot in 2009″. So thanks to Santa's helper here's part 1 of a Christmas list for you. In the spirit of collaboration let me know which ones you rate.
For all things new on the Web check out Mashable.
Ever been in a group that can't seem to decide when to meet and when to eat? Then take a look at Doodle, it creates a poll so easily anyone can do it.
Once you've agreed on your event Eventbrite helps you manage, promote and sell it.
If you need a simple, secure online workspace with project and collaboration tools try Huddle.
Like all things at Christmas moderation is required, so more of these hot-links later. Thanks Jim.