Chief Collaboration Officer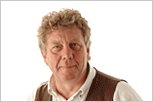 What with Ian sending us his French Letters from La Belle France, the title of this blog 'Chief Collaboration Officer' sounds as if it might come from 'Allo 'Allo but Non!
I have just received a link to an interview with a CCO. Whose job is focused on managing and improving his company's' collaborative efforts. But what exactly does a Chief Collaboration Officer do?
In the case of Adam Zawel at INmobile.org, his skill is helping high ll executives participate in an organized group of their peers, with moderation and assistance from Zawel.