Clocked creates socially-holistic profile matchmaking app
A London-based software application development shop has produced a new app designed to tackle online matchmaking with an altogether more integrated and socially-holistic approach.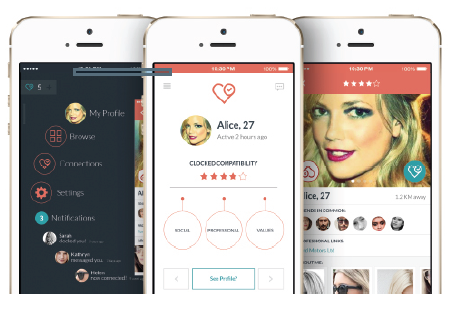 Clocked connects a user's various online profiles to form a 'compatibility score' for potential matches.
Each day users are matched with potential suitors, with a couple of wildcards thrown in for good measure.
Okay so what you say?
Clocked's predominantly Agile-centric team says it is the first app to reveal compatible people partially based on information automatically pulled from users' various online profiles;
including:
Instagram,
Facebook and,
LinkedIn.
So how was it built?
"We are an Agile shop," confirms Ben Lambert, CEO and founder of Clocked.
"The development was also done in Poland in two-week sprints… and using scrum. I have followed the whole thing on Trello (a free web-based project management application) and project managed from the UK."

"The back end is built on Ruby/ PostgreSQL for high scaling potential. The front end in ObjC and Swift giving the nice UX/ UI," added Lambert.
Cinderella twist
The team also built in a function which it calls the Cinderella twist i.e. users need to act on suggested profiles by midnight or they disappear.
In addition to location & age, Clocked takes into account values and other online profile information when suggesting how suitable a match is — when browsing through profiles users will be able to see where shared similarities exist, making it easier to start those initial conversations.
This is shown by the 'Clocked Compatibility Rating' out of 5 stars.
Clocked is free and can be downloaded at Clocked.co, Apple iTunes and is coming soon to Android.
Image credit: http://www.fanpop.com/