darren whittingham - Fotolia
Cyber security fears are a barrier to fintech innovation
Survey shows most large financial services firms believe better visibility of cyber security controls within fintechs would improve prospects of partnering with them
Three-quarters of large global financial services companies have identified the importance of partnering financial technology (fintech) firms, but 71% of them see cyber security as an associated risk.

Download this free guide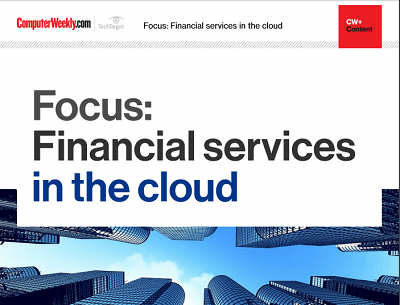 No longer a laggard, financial services in the cloud
Computer Weekly takes a look at how some of the world's biggest financiial brands have moved to the cloud, and share a cautionary tale or two about the mistakes some have made while trying to get there.
By submitting your personal information, you agree that TechTarget and its partners may contact you regarding relevant content, products and special offers.
You also agree that your personal information may be transferred and processed in the United States, and that you have read and agree to the Terms of Use and the Privacy Policy.
Research by global law firm Simmons & Simmons also found that 71% of large financial services firms believe better visibility of cyber security controls within fintech firms would improve partnering prospects.

"There is no doubt that established financial institutions need to look at new technology and partnering solutions if they are to escape the chains of their legacy IT systems and adopt innovative technology," said Alex Brown, head of tech, media and telecoms at Simmons & Simmons.
"At the same time, though, not only are they encumbered by their legacy systems, but the increasing weight of data protection and financial regulation makes data sharing with third parties or adopting innovative technology steadily more difficult."
But there is pressure to share data with partners to help provide better services for customers, said Brown. "Those that don't find ways to innovate will be left behind," he pointed out.

Although it is generally agreed that successful collaboration with fintech firms is essential for innovation, most large institutions (75%) questioned in the research admit they are poorly equipped to address the factors that are hindering progress.

The data comes from Simmons & Simmons' Hyperfinance research programme, which looks at what large banks and asset managers need to do to succeed in digital innovation.
The research also revealed that 31% of banks and asset managers expect to acquire a fintech firm within the next 18 months. Of the remaining companies that do not plan to acquire a fintech company in that period, 45% said the regulatory risks are too high and 48% said they want to wait longer to make sure of the right acquisition.
Simmons & Simmons expects a significant increase in investment and merger and acquisition activity in the sector over the next few years.
The CEO at US investment bank JP Morgan Chase recently told shareholders that the bank's $9.5bn investment in technology included $600m on small fintech companies during 2016, which was part of the reason for the company's success.