Taiwanese smartphone maker HTC has filed a third complaint with the US International Trade Commission against Apple in its ongoing war over patent infringement.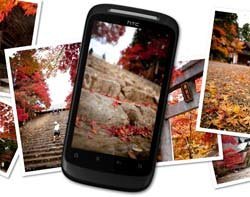 In the fresh assault, HTC is using nine patents bought last week from Google, four of which originally came from Motorola, three from Openwave Systems, and two from Palm.
"We are taking this action against Apple to protect our intellectual property, our industry partners, and most importantly our customers that use HTC phones," said Grace Lei, general counsel of the HTC Corporation.
Analysts say the move indicates the tussle is becoming a much bigger issue than just a fight between manufacturers and more of a battle between Android and Apple, according to the BBC.
Apple is also locked in a fight over patent infringements with South Korean electronics manufacturer Samsung, which like HTC, uses Google's Android mobile operating system.
Last month, a court in the Netherlands banned Samsung from selling three models of its Galaxy smartphones in a number of European countries after Apple filed a claim for patent infringement.
Apple claimed that Samsung had infringed its patents by copying the design of Apple's iPhone and iPad devices. Samsung has countersued Apple, saying it infringed Samsung's wireless patents.
Analysts say the increasing intensity of the patent wars may lead to Apple's rivals HTC, Samsung and Google joining forces.
Google's involvement in aiding HTC represents a new front in an industry-wide dispute over smartphone technology, according to Bloomberg.
Until now, Google has been criticised for sitting on the sidelines while its Android partners faced legal action by Apple.
In August, filed a lawsuit against Apple in the US District Court of Delaware, alleging that Apple infringed three HTC patents in devices including iPads, iPods, iPhones and Macintosh computers.
In July, Apple won a preliminary ruling from the International Trade Commission (ITC) when an administrative judge ruled HTC infringed two of four patents.
The full commission is to rule in December on whether it will uphold or reverse the preliminary ruling. Apple has also filed a parallel lawsuit against HTC in a court in the US District Court in Delaware.
---
Phone makers: Please spend $12.5bn on mobile innovation, not on a self-serving patent war
Email Alerts
Register now to receive ComputerWeekly.com IT-related news, guides and more, delivered to your inbox.
By submitting your personal information, you agree to receive emails regarding relevant products and special offers from TechTarget and its partners. You also agree that your personal information may be transferred and processed in the United States, and that you have read and agree to the
Terms of Use
and the
Privacy Policy
.