Datacentres at risk unless they tackle inefficiencies
End-user businesses need to take into account the risks...
This Article Covers
RELATED TOPICS
End-user businesses need to take into account the risks of suppliers going out of business as they sign up emerging cloud and virtualisation providers.

Download this free guide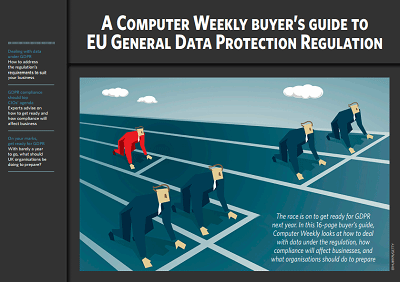 Computer Weekly's Buyer's Guide to GDPR
The race is on to get ready for GDPR next year. Computer Weekly looks at how to deal with data under the regulation, how compliance will affect businesses, and what organisations should do to prepare.
By submitting your personal information, you agree that TechTarget and its partners may contact you regarding relevant content, products and special offers.
You also agree that your personal information may be transferred and processed in the United States, and that you have read and agree to the Terms of Use and the Privacy Policy.
Datacentre providers may be at risk unless they are able to focus on efficiency, management consultancy Booz & Company has warned.
Louise Fletcher, Head of the Global IT Practice at Booz & Company, said: "The demand for data services is on the rise but the datacentre is under tremendous pressure to cut costs, reduce energy usage, and develop new delivery models.
"Those pressures - and the threat of rising factor costs such as energy, labour or real estate - will force every datacentre operator to re-assess how it does business if it wishes to remain competitive."
Costs can be cut by as much as 40%, through virtualisation, server consolidation, energy management, datacentre management, global sourcing and modularsation, according to Booz & Company.
Creating a virtualised server environment using virtualisation technology can bring 15-20% savings, it said. The management consulting firm noted that more than 50% of datacentre floor space is underused.
Furthermore, larger sites can be run more efficiently than smaller ones. According to Booz & Company, when a datacentre reaches 10,000 square metres, operating expenses are minimised.
Booz & Company recommended datacentre operators use high-efficiency power distribution systems and reduce cooling costs through using district cooling or variable speed fans. Doing so could reduce carbon emissions by 25%.
Datacentre managers can also restructure the datacentre's operating model to increase efficiency. Booz & Company suggested planning, administration and service management should be integrated across all production platforms to allow for better capacity planning and lower coordination costs.
Additionally, operators may look at remote infrastructure management or outsourcing and process automation to reduce datacentre workforce costs by up to 15%.
Read more on Data centre hardware