World's biggest computer built for US nuclear department
The US government is building a supercomputer...
This Article Covers
RELATED TOPICS
The US government is building a supercomputer for its nuclear department that will be the most powerful computer in the world.
The computer will be used by the Department of Energy's National Nuclear Security Administration (NNSA) and will be ten times faster than today's most powerful system.

Download this free guide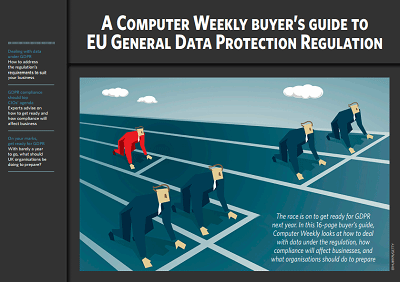 Computer Weekly's Buyer's Guide to GDPR
The race is on to get ready for GDPR next year. Computer Weekly looks at how to deal with data under the regulation, how compliance will affect businesses, and what organisations should do to prepare.
By submitting your personal information, you agree that TechTarget and its partners may contact you regarding relevant content, products and special offers.
You also agree that your personal information may be transferred and processed in the United States, and that you have read and agree to the Terms of Use and the Privacy Policy.
Two systems will be built for the super-computer by IBM. The first is Sequoia, a 20 petaFLOP/s (quadrillion floating operations per second) system based on future BlueGene technology. This will be delivered starting in 2011 and deployed in 2012. The second is an initial delivery system called Dawn, a 500 teraFLOP/s (trillion floating operations per second) BlueGene/P system, being delivered in the first quarter of 2009. Dawn will lay the applications foundation for multi-petaFLOP/s computing on Sequoia.
To put the size of the computer into perspective, if each of the 6.7 billion people on earth had a hand calculator and worked together on a calculation 24 hours a day, 365 days a year, it would take 320 years to do what Sequoia will do in one hour.
NNSA administrator Thomas D'Agostino said, "These powerful machines will provide NNSA with the capabilities needed to resolve time-urgent and complex scientific problems, ensuring the viability of the nation's nuclear deterrent into the future. This endeavour will also help maintain US leadership in high performance computing and promote scientific discovery."
World's biggest computer built for US nuclear department
Read more on Server hardware