Bristol City Council spurns Microsoft for Star Office
Bristol City Council expects to save £1.4m over the next five years by switching to StarOffice desktop applications.
Bristol City Council expects to save £1.4m over the next five years by switching to StarOffice desktop applications.
The council sees the move as part of an ongoing drive to meet the government's requirements for improved efficiency in the public sector as set out in the Gershon Review.

Download this free guide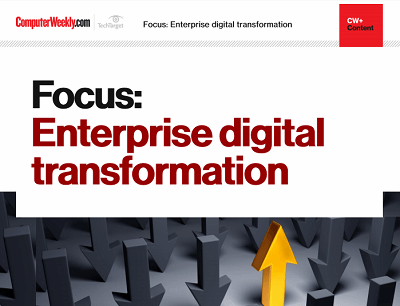 Are you digital to the transformation?
Digital transformation - the buzzword that we can't get away from. Enterprises need to accelerate their digital transformation journeys to avoid being left behind in an increasingly digital world. It's not an easy feat, but one that can be costly to get wrong. Join us as Computer Weekly takes a look at how businesses can stay on track through collaboration, innovation, and listening to user needs.
By submitting your personal information, you agree that TechTarget and its partners may contact you regarding relevant content, products and special offers.
You also agree that your personal information may be transferred and processed in the United States, and that you have read and agree to the Terms of Use and the Privacy Policy.
The council plans over 5,000 users from the authority's existing mixture of Corel Word Perfect, Lotus 1-2-3 and Microsoft Office software to Sun Microsystems' integrated StarOffice 7 suite.
Councillor John Bees, the council's Executive Member for Central Support Services, agreed the move at his executive meeting yesterday (15 November).
Most council departments will transfer to the new software, although some 1,800 desktops in the city's education service - including schools - will remain on Microsoft Office for the time being. This is because preferential financial terms that Microsoft currently offer for their product licences to educational establishments, have not been extended to other public sector users. Education users will have access to StarOffice if they require it.
A limited number of other council staff will retain access to Microsoft Office applications where they need to manage the few documents with specific technical features not yet fully supported in StarOffice.
The decision follows a successful completion of a pilot scheme run on 600 desktops in the council's Neighbourhood and Housing Services department.
"This is further evidence that the city council is determined to be as cost effective as it can in the way it works - while neither compromising the quality of its services to the public or the resources available to staff. Our information technology specialists have spent three years evaluating the options and investigating in detail the technical, financial and cultural issues involved in switching the majority of our desktops to StarOffice. We are convinced that this is the right way forward and will offer benefits all round," Bees said.
The government is aiming efficiency savings of 2.5% a year for the whole of the public sector. This target is based on evidence gathered by Sir Peter Gershon, chief executive of the Office of Government Commerce, in his review of public sector efficiency.

Read more on Operating systems software