IBM has no right to enforce GPL, claims SCO
The legal war between the SCO Group and IBM took another step forward after SCO asserted that IBM does not have the right to...
The legal war between the SCO Group and IBM took another step forward after SCO asserted that IBM does not have the right to enforce the GNU General Public Licence (GPL) governing the Linux operating system.

Download this free guide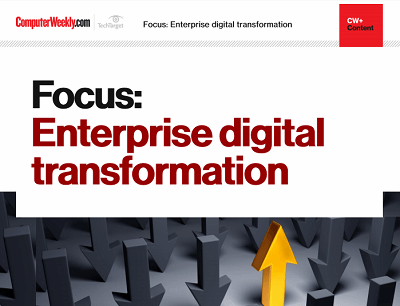 Are you digital to the transformation?
Digital transformation - the buzzword that we can't get away from. Enterprises need to accelerate their digital transformation journeys to avoid being left behind in an increasingly digital world. It's not an easy feat, but one that can be costly to get wrong. Join us as Computer Weekly takes a look at how businesses can stay on track through collaboration, innovation, and listening to user needs.
By submitting your personal information, you agree that TechTarget and its partners may contact you regarding relevant content, products and special offers.
You also agree that your personal information may be transferred and processed in the United States, and that you have read and agree to the Terms of Use and the Privacy Policy.
"The GPL is selectively enforced by the Free Software Foundation such that the enforcement of the GPL by IBM or others is waived," SCO claimed in papers filed in court at the end of last week.
"The Free Software Foundation is the only entity that can enforce the GPL so, in effect, IBM is barred from trying to enforce the GPL with SCO," said SCO spokesman Blake Stowell.
SCO's filings also asserted that "the GPL violates the US Constitution, together with copyright, antitrust and export control laws".
The filings were made in response to a countersuit brought against SCO by IBM last August, which alleged that SCO had violated the GPL and a number of IBM's software patents.
However, Eben Moglen, a lawyer representing the Free Software Foundation disputed SCO's claims that the FSF is the only organisation with the necessary legal standing to launch a GPL-based lawsuit.
Since IBM holds the copyright to much of the Linux kernel software distributed under GPL, it has every right to enforce it, he argued.
"The proper enforcer of a copyright is the copyright holder," said ,Moglen. "IBM says, 'You're using a copyrighted work of ours in a fashion which is prohibited by the Copyright Act, and you're doing so without our permission. You owe us damages and you must stop.'"
If the GPL is not a valid licence, Moglen reasoned, then SCO itself does not have the right to redistribute Linux - something it has done for years. "Redistributing copyrighted works without permission, we are told by the RIAA (Recording Industry Association of America Inc.) and MPAA (Motion Picture Association of America) every day, is stealing," he said.
One Intellectual property lawyer not connected with the case agreed with Moglen's assessment. David Byer, a partner with the Patent and Intellectual Property Practice Group at Testa, Hurwitz & Thibeault, said, "This really is a matter of a third party adopting the terms of the FSF ... The fact that IBM adopted the FSF form doesn't mean that they can't enforce their rights."
The court fillings also disputed IBM's claims that SCO had violated IBM's software patents. "If we're in violation of them, then just about every other vendor in the entire software industry is in violation of them," SCO's Stowell said. "What they're claiming is something that is a common practice within the software industry."
The fact that IBM's software patents may be wide-reaching, however, does not mean that they are unenforceable, Bayer said.
"Arguing that a patent covers too many people isn't an effective defence," he added.
SCO and IBM have been engaged in a legal dispute over IBM's contributions to Linux since SCO sued the computer giant in March, alleging that IBM had inappropriately contributed code to the open-source operating system in an effort to enhance its Linux server business.
Robert McMillan writes for IDG News Service
Read more on Operating systems software