Security, disaster recovery top SMB predictions for 2007
What's in store for SMBs over the next year? Analysts weigh in with their thoughts on how security, disaster recovery, application availability and more will affect SMBs in 2007.
During the last few disaster-prone years, small and medium-sized businesses (SMBs) learned the hard way that they are as vulnerable as large enterprises to hackers, hurricanes and the penalties of not complying with federal regulations.

It's no surprise, then, that The Yankee Group's 2006 U.S. Small & Medium Business IT Infrastructure Survey (Oct. 2006) found that SMBs' top concern for 2007 is security, closely followed by backup and restore, and application and data availability.

Download this free guide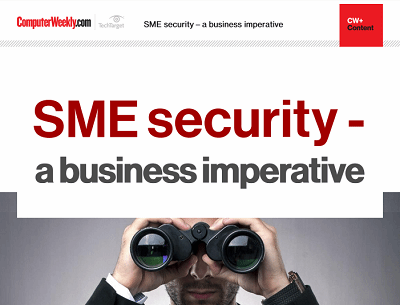 The secret to winning - SMEs and cyber security
50% of SMEs plan to spend less than £1000 on cyber defenses in the next year and only 42% of SMEs are concerned about ransomware. Anyone see a problem? Computer Weekly outlines some solutions to this growing naive trend.

By submitting your personal information, you agree that TechTarget and its partners may contact you regarding relevant content, products and special offers.

You also agree that your personal information may be transferred and processed in the United States, and that you have read and agree to the Terms of Use and the Privacy Policy.

"Optimization of technical assets" was another top priority, according to the survey.

SMBs will deploy technology that helps employees "work smarter not harder," according to Carmi Levy, a senior research analyst at Info-Tech Research Group Inc. in London, Ontario. "That's the mantra for 2007."

The good news is a growing number of vendors have adopted the mantra "SMBs are hot."

What follows are predictions from five leading analysts on what's hot and what's not, and the products and strategies SMB technical decision makers should be looking at during the coming year.

Security

Last month, The New York Times published an article, "Online Swindlers Shift Focus to Smaller Retailers." The main reason, according to industry sources cited in the article, is that SMBs' online security systems tend to be significantly weaker than those of large enterprises.

SMB decision makers are aware of this danger. "In the past year, we've seen more SMB investment in antispyware and personal firewalls," said James Browning, a vice president at Stamford, Conn.-based research group Gartner Inc. "In 2007 we'll see more intrusion prevention, and more interest in ID and access management products that let good guys in, as well as blocking out bad guys," he said. Driving this trend will be increased Web development and Web enablement of business processes, an SMB trend that began last year, Browning said.

Disaster recovery

SMBs seriously need to build more resilience and backup into their infrastructure during the coming year, analysts agree. "Most are on the edge where a couple of bad events could shut down business," said Gary Chen, an analyst at Boston-based Yankee Group. "They need regular backup, either traditional scheduled file-based, or continuous. And they need to have it off-site and tested, to ensure they can bring up critical applications and data if headquarters is wiped out."

In the past year, disaster recovery infrastructures have become more affordable with the introduction of disk-to-disk backup and server virtualization, Browning said.

Mobile and remote

"The SMB workforce has become much more distributed, mobile global," Chen said.

"Midsized companies are getting the confidence to deploy mobile solutions that address core business needs," Levy said. "Rather than just give salespeople BlackBerrys, they will give them mobile devices that integrate applications into the workflow, accelerating business functions like data entry."

Costs are coming down. "Smartphone price points are going from $700 down to $200, with greater capacity," Levy noted. Wireless data networks are also increasingly robust, high-speed and cost-efficient. "Cheap and easy bandwidth will be a huge driver of business opportunity."

But as users become more mobile and distributed, IT staffs face major challenges, Chen pointed out. One is securing the data residing on laptops and at remote sites.

Application availability

SMBs also need to ensure that remote sites "have access to the applications they need to be productive," while at the same time ensuring that information created by those applications "doesn't put the business at risk," noted Tony Prigmore, a senior analyst at Enterprise Strategy Group in Milford, Mass. This definitely applies to SMBs, he added: "Something like 80% of businesses in this country have four or more offices"

High-speed IP and virtual private network links between headquarters and branch offices will allow firms to back up critical data and replicate critical applications on virtualized servers at remote sites, Gartner's Browning noted.

SMBs should look at wide area network optimization as a way to centrally back up and secure the data generated by remote offices: either by enabling remote users to run their applications on data center hosts, or by replicating data back to headquarters over high-speed links, Prigmore said.

Bang for the buck

"2007 will see a very strong SMB drive to bring the total number of servers through consolidation and virtualization," Levy said. The technology is very much hitting its stride, with Microsoft, Intel Corp. and Advanced Micro Devices building virtualization into their architectures and chipsets. "It's now relatively easy to implement for an SMB without huge depth of knowledge of virtualization," Levy said.

Deduplication, which automatically gets rid of duplicate records in storage, "matured in '06, and should be broadly available in 2007," Prigmore said. "Before it was available, enterprises simply overprovisioned storage, [and] overbudgeted capacity -- which is an option few SMBs have."

Affordable storage networks allow SMBs to consolidate and centrally manage storage resources, Prigmore said. Fibre Channel switch prices are coming down. And iSCSI allows an SMB system administrator to deploy and manage a storage network using familiar IP and Ethernet technology, he added.

Software as a Service can help SMBs control the costs of deploying and running applications, said Michael Speyer, a senior analyst at Forrester Research Inc. in Cambridge, Mass. "You're not doing a big upfront purchase, and because the software is delivered over the Internet, you're not tied to a corporate data center infrastructure." Leading vendors like NetSuite Inc., Salesforce.com and Microsoft Live "have been targeting SMBs from the get go," he added.

Business intelligence and the Web

Led by Microsoft, business intelligence vendors will target SMBs with "right-sized, lower-priced products that analyze, report and present business information to the right users," Speyer said.

Many of those "right users" will be on the Web, Chen said. "We expect SMBs to get lot more percentage of revenues from e-commerce in 2007 than last year."

Midrange companies in particular will increasingly use Web development tools to deploy rich Web applications, which are also moving within SMBs' reach, Levy noted. "This will allow SMBs to compete more directly with large organizations that previously had a lock on a sophisticated Web presence. It will help level the playing field."

Indeed, that is one main reason SMBs need to start taking advantage of the newly accessible products cited above, analysts say: In an increasingly global and Web-based business environment, they must compete against larger companies that are already using them.

Elisabeth Horwitt is a freelance writer based in Waban, Mass.
Read more on IT for small and medium-sized enterprises (SME)