Chancellor George Osborne produced a business-friendly budget for 2011/12 that stressed his reliance on small and medium enterprises, especially in knowledge-intensive sectors, to grow the economy and create jobs.
He said businesses that moved into one of 21 proposed enterprise centres would be guaranteed access to "superfast broadband", and that public money was available to fund its installation if needed.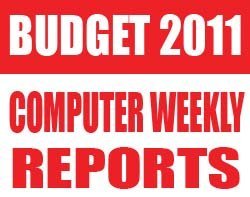 Osborne repeated the government's announcement earlier this week that it would auction 500MHz of radio spectrum in the 800MHz and 2.6GHz bands to extend access to mobile broadband, especially in rural areas. He held out the prospect of more spectrum auctions up until 2020.
The chancellor said he would publish further consultation on the introduction of a 'patent box' in May 2011. This would provide a 10% corporate tax rate for profits from patents and royalties. He expected this to encourage UK businesses to retain high-value jobs associated with commercialisation of patents and to invest further in innovation. He promised draft legislation in autumn 2011.
Enterprise zones
He said the government would open 10 new urban enterprise zones in Birmingham and Solihull, Leeds, Sheffield, Liverpool, Greater Manchester, West of England, Tees Valley, the North Eastern region, the Black Country, Derby, and Nottingham.
London Mayor Boris Johnson would choose the site for an enterprise zone in the capital, and the government would invite local enterprise partners (LEPs) to compete to set up another 10 enterprise zones, Osborne said.
Businesses that relocate to the zones before the next election will receive a 100% business rate discount worth up to £275,000 over five years. In addition, for 25 years all business rates growth within the zone will be retained and shared by the local authorities in the LEP area to support their economic priorities, he said.
Small businesses
The Federation of Small Businesses (FSB), which represents 213,000 small businesses, welcomed the reintroduction of enterprise zones. "However, with unemployment at 2.5 million, the FSB is disappointed that the government has not extended its national insurance contributions (NICs) holiday to existing businesses. This is a missed opportunity. This policy would have been cheaper to implement than keeping people on benefits," it said in reaction to the budget.
The FSB also welcomed the extension of the enterprise investment scheme and the doubling of entrepreneurs relief to £10m. This would provide "a much needed shot in the arm for entrepreneurship in the UK", it said. "Small businesses are key to innovation and the 200% increase in SME R&D is welcomed."
It said a three-year moratorium on new regulation for firms with fewer that 10 staff would give them the confidence to employ more staff without having to worry about constant changes in employment law. "But the government needs to look at extending this to all small firms to really open up an environment for businesses to take on more staff," it said.
John Walker, national chairman for the FSB, said, "The government has committed to cutting red tape, but we believe new employment laws will still come into force in this year, which could hinder businesses from taking on staff.
"The biggest opportunity missing from this budget is by not extending the NICs holiday nationwide to existing businesses, which would really have provided incentives for small firms to take on more staff."
---
Email Alerts
Register now to receive ComputerWeekly.com IT-related news, guides and more, delivered to your inbox.
By submitting your personal information, you agree to receive emails regarding relevant products and special offers from TechTarget and its partners. You also agree that your personal information may be transferred and processed in the United States, and that you have read and agree to the
Terms of Use
and the
Privacy Policy
.