Bird & Bird proves ROI of business continuity
The failure of a mobile messaging server proves the...
The failure of a mobile messaging server proves the value of having a business continuity system in place, says international law firm Bird & Bird.

Download this free guide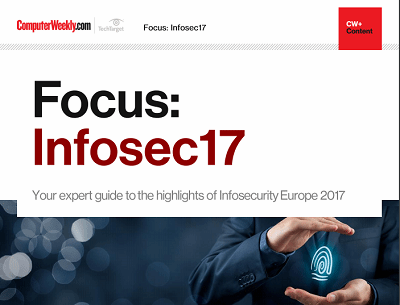 From forensic cyber to encryption: InfoSec17
Security technologist Bruce Schneier's insights and warnings around the regulation of IoT security and forensic cyber psychologist Mary Aiken's comments around the tensions between encryption and state security were the top highlights of the keynote presentations at Infosecurity Europe 2017 in London.
By submitting your personal information, you agree that TechTarget and its partners may contact you regarding relevant content, products and special offers.
You also agree that your personal information may be transferred and processed in the United States, and that you have read and agree to the Terms of Use and the Privacy Policy.
"Businesses may not appreciate the value of business continuity systems, but they really do when systems fail," said Jon Spencer, infrastructure manager at Bird & Bird.
The law firm recently had to switch to its secondary Blackberry Enterprise Server (BES) when the primary server failed, Jon Spencer said.
The BES continuity system from Neverfail ensured a smooth switch to the firm's server at its secondary datacentre.
"None of the firm's 240 Blackberry users experienced any interruptions in their messaging services in the two days the primary server was down," said Spencer.
This was an instant return on investment, as business would otherwise have ground to a halt, which would have been extremely costly in lost productivity, he said.
Building on this success, Bird & Bird has implemented Neverfail's cluster protector to ensure 100% availability of the firm's document management system (DMS) to around 650 lawyers.
"Protecting the DMS with clustering provided some level of redundancy, but we needed something to protect us if the shared storage failed or the primary datacentre was unavailable," said Spencer.
The DMS contains more than 4TB of case data, and downtime could cost up to £1m a day in lost productivity, he said.
"The Neverfail system enables instant replication to the secondary server, which means the case data is always completely up to date," he said.
Spencer chose Neverfail for RIM Blackberry after consulting peers in the legal industry and various Blackberry user forums.
"Moving to Neverfail for Cluster Protector seemed a logical progression, given our success with the BES product," he said.
Read more on IT risk management