Windows 7, VDI top desktop priorities for India in 2012
TechTarget's survey of 746 Indian data center professionals, reveals Windows 7 migration as the upcoming desktop trend of 2012.
While Windows 7 migration and desktop virtualization initiatives are set to pick up speed in India during 2012, Windows 8 with its 'soon to be launched' status will languish on evaluation lists this year. This trend has come out in TechTarget's survey of 746 Indian data center professionals, which reviews their inputs on the upcoming desktop trends of 2012. Here's a look at what our experts have to say about these findings.
Windows 7 migration and VDI pick up steam
Shailesh Joshi, the vice president and head of IT at Godrej Industries Ltd attributes the boom in Windows 7 migration to an approach he terms as the "minus one mode". According to Joshi, most Indian CIOs prefer to adopt a desktop operating system (OS) version which below the latest offering. Since Windows 8 is yet to see the light of day, Windows 7 will remain the preferred OS for 2012. With 54.8% of our respondents rooting for Windows 7 migration, it has emerged as the top desktop priority for 2012.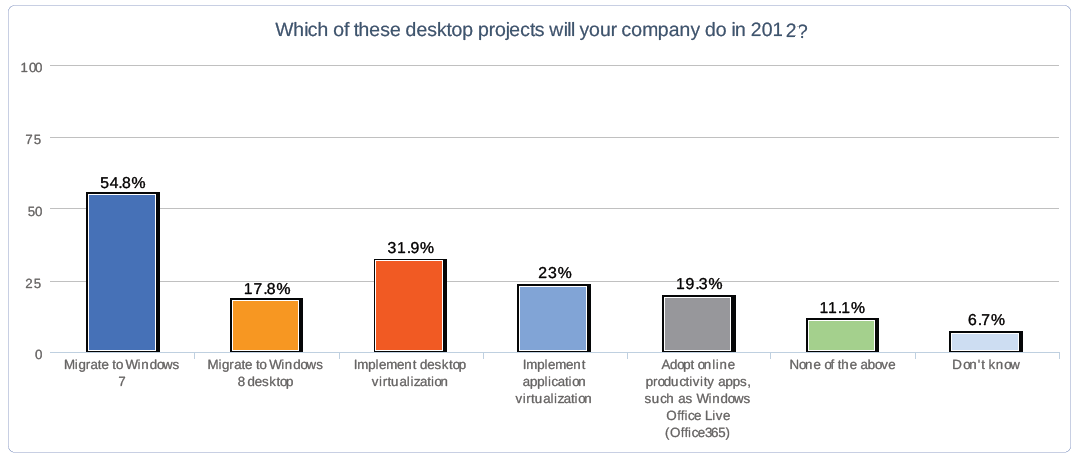 Figure 1. Desktop Projects of 2012
The respondents believe that Windows 7 migration projects will be given medium priority among other initiatives. Girish Rao, the CIO at Marico Limited is of the view that Windows 7 is a much more efficient platform in terms of utilization of resources.
Hilal Khan, the head of corporate IT at Honda Motors India believes that although Windows 7 is a stable and secure platform, migration may occur only in phases through 2012. As a conscious call, organizations may not immediately migrate all of their systems. "It will be a journey. The new systems will be Windows 7 enabled, and existing systems will slowly be replaced with the new version. It could take a year and a half for all the systems to migrate to Windows 7,"he says.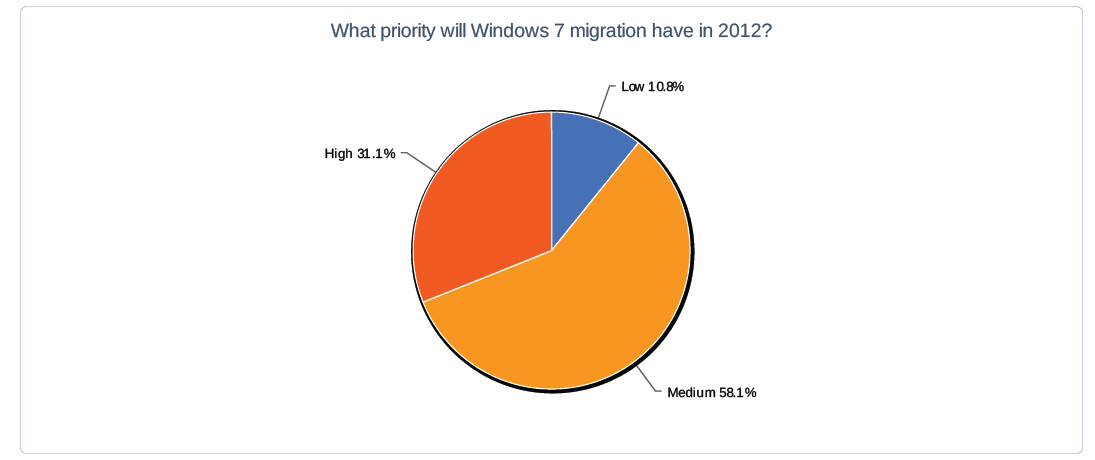 Figure 2. Windows 7 priority
Implementation of desktop virtualization stood second in the list of India Inc's desktop priorities for 2012, with 31.9% respondents voting for it. As the cost for desktop technologies and support increases, desktop virtualization will be used as a tool to reduce support and manageability costs. Flexibility of thin clients, higher security controls and better manageability are other drivers for this initiative, according to our experts. Khan has a different view on the future of desktop virtualization. He believes that even though desktop virtualization is a good concept in terms of manageability and speed of deployment, it may take around three years to mature and find full acceptance in the IT industry.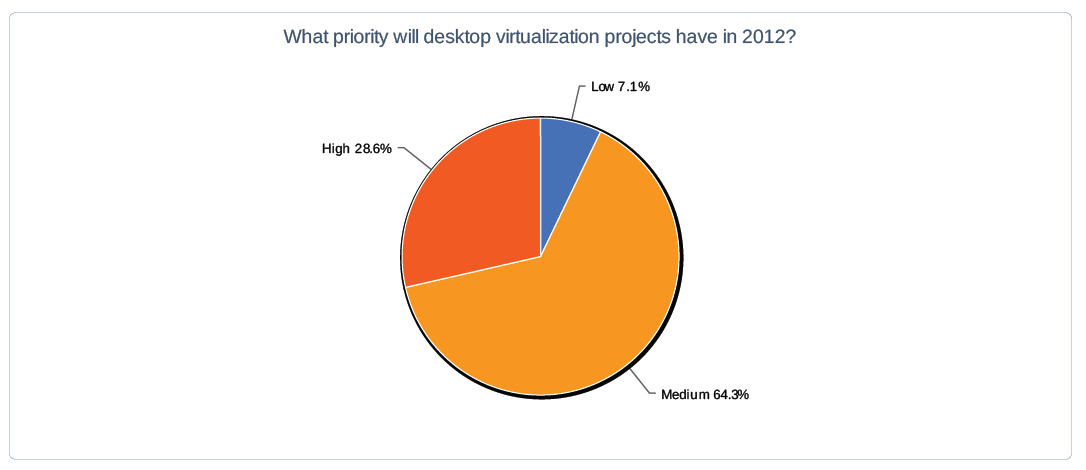 Figure 3. Desktop Vitalization project
Windows 7 migration in 2012 will be seen more as an inevitable choice, whereas desktop virtualization requires deeper thought and higher investments. "A project like desktop virtualization can take off only on the basis of a proper evaluation. Windows 7 migration does not have any such pre-requisites, and since the operating system is bundled with devices, that helps in faster adoption," says Rao. Khan seconds Rao's views as he points out that Windows 7 is more of a need, whereas desktop virtualization is akin to a comfort.
Virtualized applications may witness high acceptability
Application virtualization stood third among the desktop projects for 2012 with 23% of the surveyed Indian data center professionals identifying it as a priority. The survey also reveals that a majority of these IT professionals (73.3%) accord medium priority to the adoption of virtualized applications.
As Indian businesses grow, their need for better centralized applications with 24x7 uptime will gain momentum. In order to achieve this objective, Rao believes that it's important to use application virtualization as a tool to deliver the application in a reliable, highly available and secure manner. "This will gain further momentum as the trend to centralize applications continues," he says.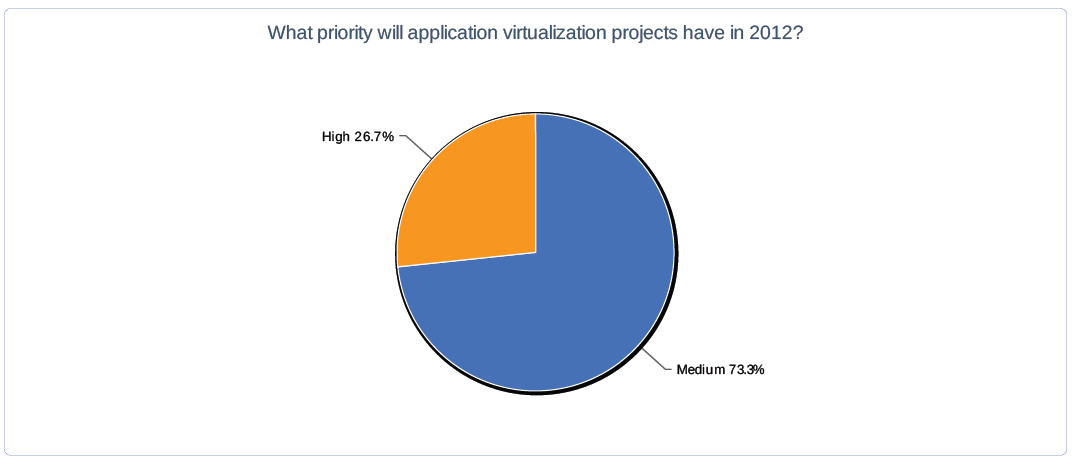 Figure 4. Application Virtualization priority
Joshi raises doubts about the acceleration of application virtualization this year, citing compatibility issues. "Not all software may need or support virtualization. For instance, antivirus packages that need heavy work integration may not be able to support virtualization," Joshi says.
Migration to Windows 8 unlikely
In India the first level of Windows XP to Windows 7 adoption is just underway. Adding to that is the delay in Windows 8's launch. As a result, migration to the Windows 8 desktop (17.8% of respondents) scores very low on the desktop projects for 2012 front. There are concerns in the user communities about how applications and devices may work in tandem with the new changes in Windows 8. "Till the applications and devices do not mature, moving to a new OS seems unlikely," says Joshi.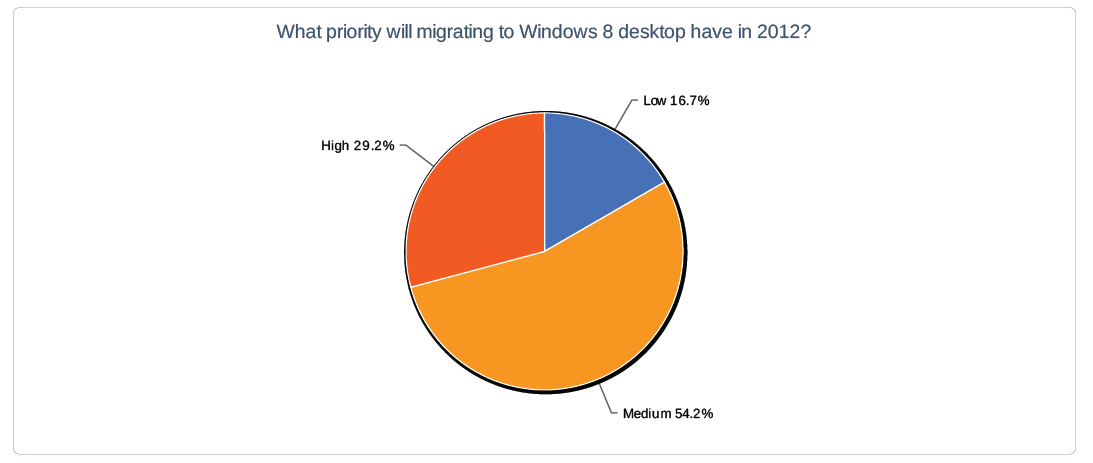 Figure 5. Windows 8 Migration
On the other hand, Khan does not have any concerns about Windows 8 migration. He believes that every product has a life cycle. Once a product's performance, scalability and maturity are ensured, it will see higher adoption. This could be the reason why those who plan to migrate to Windows 8 in 2012 gave medium priority to the migration.
Adoption of online productivity applications such as Windows Office Live (Office365) ranked fourth with 19.3% of our respondents having plans on this front. The majority of Indian data center professionals who will opt for this project gave medium importance to this initiative.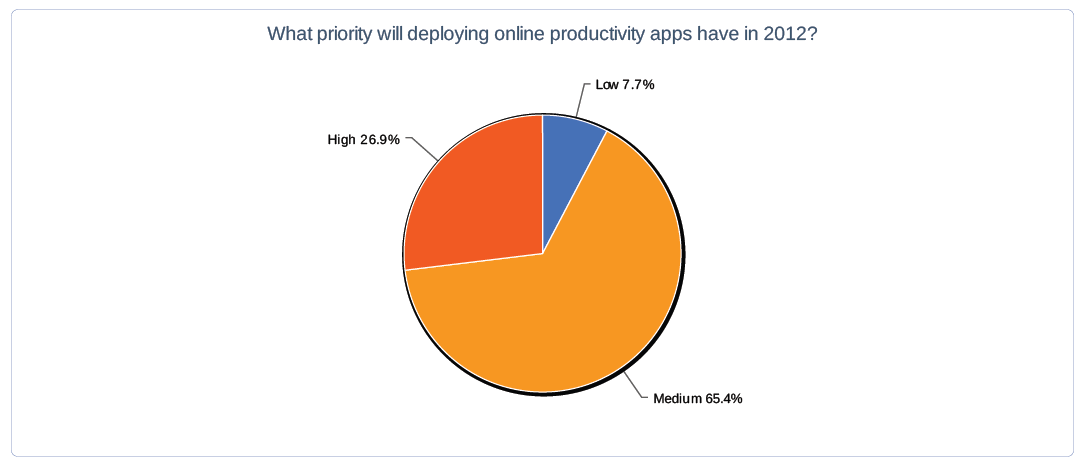 Figure 6. Online productivity application priority