Disaster recovery planning and procedures for data storage environments
SearchStorage.co.UK has compiled our latest resources on disaster recovery (DR) tools, facilities, operations and testing procedures to help storage professionals survive a worst-case scenario. Learn about continuous data protection (CDP), failover and failback technologies, and more.
In the event of a disaster, organisations must be equipped with the right tools, the latest information on facility operations, and proven recovery procedures to ensure critical data is retained and key systems continue running. SearchStorage.co.UK has compiled our latest resources on disaster recovery (DR) tools and testing procedures to help storage professionals anticipate and survive a worst-case scenario.
Using data classification tools to aid in disaster recovery planning
Disaster recovery for files and folders is generally simpler than disaster recovery for applications. The challenge with disaster recovery for file-based content is mostly a problem of volume and size. Some organisations have leveraged a variety of data classification tools to determine the value of data and its appropriate disaster recovery tier.
Data replication tools for disaster recovery
For organisations whose recovery time objective (RTO) and recovery point objective (RPO) for regaining business-critical functionality is a matter of minutes, data replication is a truly workable strategy. However, in researching vendors for replication tools, it soon becomes apparent that there are a few catches with the best and most workable data replication tools.
Disaster recovery team planning: Guidelines on DR roles and training
With the increasing amount of industry standards and technical certifications associated with business continuity (BC) and disaster recovery, best practices are starting to accumulate around the roles key personnel play when it comes to BC/DR planning. From the CIO to the IT department to stakeholders from various operational units, lots of people have important roles to play in planning, maintaining, auditing, testing, and implementing disaster recovery and business continuity procedures.
IBM Tivoli Storage Manager Disaster Recovery Manager best practices
Data backup is probably the most essential form of data protection and is the cornerstone of most DR plans. By deploying IBM Tivoli Storage Manager (TSM) backup and restore software, and using the Disaster Recovery Manager (DRM) module, IT departments hope to ensure the ability to restore data in the event a disaster causes the loss of the primary data copy.
Data asset inventory key to disaster recovery planning and design
What are the key elements of DR planning and design? While there's no one-size-fits-all solution, a data asset inventory that includes conducting a data classification project and assessing the potential risk for disaster from within your company will help you protect all of your data resources.
Workforce continuity and disaster recovery
While ensuring that the IT infrastructure is up and running is a crucial part of disaster recovery, you still need to provide users with the ability to work. Therefore, workforce continuity must be a part of any effective DR plan. In this podcast, business continuity specialist Pierre Dorion discusses the importance of ensuring workforce continuity. His answers are also available to download as an MP3.
Disaster recovery and failback: Five tips
Most of the attention in business continuity and disaster recovery focuses on what to do before and during a disaster. But suppose the event has happened and is drawing to a close; what should you do to resume operations? Aside from the staffing, power and data center space-related issues you'll face during post-event recovery, this article explores what you should do to restore IT operations.
Content Continues Below

Download this free guide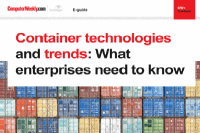 Container technologies and trends: What enterprises need to know
In this e-guide, we take a look at how and why enterprises are tapping into containers to bolster the business agility of their IT infrastructure and application estates, and some of the latest thinking about how best to utilise container technologies.