Delphotostock - Fotolia
HMRC should prioritise 'basic' customs IT system, says report
Amidst concerns that the customs declaration service won't be ready in time for Brexit, the Institute for Government calls on HMRC to focus on getting the basics right and let innovation come later
HM Revenue and Customs (HMRC) should prioritise delivering its new IT system for customs on time before focusing on "new technologies", according to the Institute for Government (IfG).

Download this free guide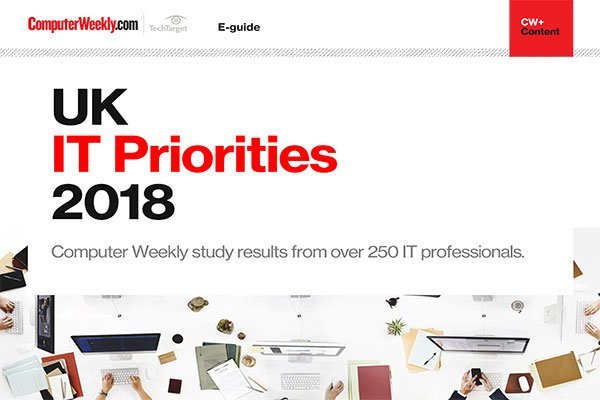 UK IT Priorities 2018 survey results
Download this e-guide to discover the results of our 2018 UK IT Priorities survey, where IT leaders shared with us what they are going to be investing in over the coming 12 months.
In its report Implementing Brexit: Customs, the think tank highlighted the need for the UK to have a customs system ready by day one of leaving the European Union (EU). It called on ministers to recognise that "innovative, new ICT is not a viable option in the short term".
The programme to deliver HMRC's customs declaration service (CDS) is intended to replace the current system for handling import and export freight from outside the EU.
However, the replacement project has gone from being rated green by the Infrastructure and Projects Authority (IPA) in November 2016, to the IPA changing the rating to amber or red, meaning it is "in doubt", with "major risks". This has led to concerns over the readiness of the new system by the time Brexit comes into effect.
"The [CDS] programme started long before the EU referendum was announced but is critical to customs after Brexit. It is under real pressure and successful delivery is in doubt," the report said.
"The programme has had to contend with constricting timelines and a huge change in some requirements. Non-delivery would leave the UK facing significant disruption on day one.
"Despite these government ICT challenges, new and innovative technology is being touted as the answer to the Brexit customs problem. With less than two years to deliver and no clear idea of what this 'new technology' is, ministers must be clear about what is and what is not feasible."
The current Customs Handling of Import and Export Freight (Chief) service, which has been in place for 25 years, can only handle around 60 million customs declarations per year, but with the UK leaving the EU in less than two years' time, the new system must be able to handle much larger numbers.
"It is likely that on exit from the EU, HMRC will need ICT capable of processing an estimated 200 million more declarations a year. Both systems running side by side may be required to meet capacity requirements for customs declarations alone."
Read more about Brexit IT
Earlier this year, both the National Audit Office (NAO) and the Treasury Committee have voiced concerns over the likelihood of the new system being ready on time, as well as the lack of contingency plans in place.
The current contingency plans are "expected to rely almost solely on Chief," said the IfG, adding that HMRC is planning a technical upgrade of the current system. However, a failed upgrade in 2010-12 "shows that even this is likely to be a challenge".
"If Chief cannot cope with the volume, and the current Chief fallback measures are put in place, ports of entry will largely come to a stop," the report said.
"Fallback measures would mean that only a small subset of goods will be processed by customs authorities, such as 'life or death consignments', perishables and live animals. But even those that can pass through the border would need to navigate a paper-based customs system without any of the modern advances or technological support."
The IfG said the government has to prioritise delivery of CDS as it stands, making sure the basics are in place. "With requirements likely to emerge as the new UK-EU customs arrangement becomes clearer, and delivery of a new customs system already in progress, there will be a temptation to 'tinker', introducing additional functionality to CDS to reduce friction or potential disruption once the UK leaves the EU," the think tank said.
The report added that Chief and CDS only make up two out of the 57 HMRC border IT systems, 25 of which will require changes before Brexit. Half of those are "either EU-wide, or require access to EU-wide systems in order to function", which means the government may have to replace or build several new systems post-Brexit.
Read more on IT for government and public sector