IT priorities 2015: Desktop IT investments shift to the cloud
The TechTarget IT Priorities 2015 survey reports that IT spending on cloud computing ranks third, behind hardware and software
The use of cloud applications for desktop IT is gaining ground. IT decision-makers are spending more on cloud, while hardware and software investments are decreasing.
The growing acceptance of cloud applications will influence future desktop strategies as businesses move away from traditional Windows-based PC upgrades.
The TechTarget IT Priorities 2015 survey reported that IT spending on cloud computing ranked third (39%) behind spending on hardware (45%) and software (48%).
When asked which areas of their IT budgets would decrease, 63% of IT decision-makers said they would spend less on hardware and 49% said they would spend less on software.
The results show that IT decision-makers are becoming more confident about moving some key desktop services into the cloud.
In the survey, 76% said they would deploy online productivity applications, 57% said they would deploy enterprise file synching and sharing services in the cloud, and 45% said they would deploy online social media tools.
Cloud products are often designed to work together. Richard Godfrey, assistant director of Digital:Peterborough believes cloud computing offers a simpler way to provide integrated IT services.
"In the old days, we worked on integration, but a lot of products are now designed to work together, such as Box with Salesforce.com," he said.
Speaking at a recent Computer Weekly CW500 Club event, Richard Gough, group IT operations manager at Punter Southall Group, said it made sense to move certain applications to the cloud, while others required plenty of due diligence. Email, messaging and even complex applications such as customer relationship management (CRM) are good candidates to migrate off-premise, said Gough.
"It's a no-brainer to use Mimecast for email," he said. "It's an obvious one. And we use Salesforce.com."
Many of these applications are being bought outside of traditional IT, often because IT is too slow or the software provided by the IT department is inferior to modern, cloud-optimised applications that are sold as a service.
In a recent study by Forrester Research, only 15% of North American and European information workers said they were completely satisfied with their IT department's understanding of what they needed to be successful. For the remaining 85%, there is a gap, and the larger that gap, the more time staff may spend figuring out how to get the job done anyway.
Cloud desktop applications meet the requirements of a certain subset of the user base – the information worker.
Traditional desktop
Dale Vile, research director at Freeform Dynamics, said: "PCs provide access to hardcore routine, process- centric, back-end and administration systems."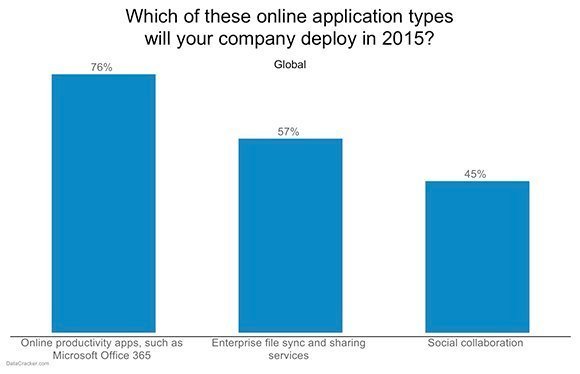 So, for the rest, the task-oriented workers, application streaming is helping IT departments to modernise their desktop PC environment. This involves replacing traditional PCs with thin clients, and applications are then streamed to the thin-client device. It provides a locked-down, centrally controlled desktop IT environment that can be managed easily and cost-effectively.
The Forrester paper Build Digital Workspace Delivery Systems To Give Employees The Right Tools For Their Job noted that companies are still handing out corporate PCs, with some issuing thin clients with a server-hosted virtual desktop – also commonly known as virtual desktop infrastructure (VDI) – which includes the same set of tools for everyone.
A thin-client computing environment will fulfill the requirements of a certain proportion of users going forward, and this is a style of desktop computing that the IT department has fine-tuned since the late 1990s.
Medway Council, for instance, has taken a desktop virtualisation approach to centralising its desktop computing on a Citrix server farm to support flexible working.
Moira Bragg, head of ICT at the council, says user computing is more complex than it was a few years ago, when everyone ran Windows. "People can have more devices now," she said. "People want to do more with these devices, and we need to support them."
Application streaming
Desktop virtualisation is a well understood means of managing desktops more efficiently, but it lacks flexibility, especially when users require offline access to applications and data. Also, a physical desktop can easily be personalised by the user, but personalisation of a virtual desktop requires IT's involvement.
The advent of desktop as a service is opening up application streaming and desktop virtualisation to a broader base of organisations. The desktop environment can be personalised and delivered to end-users, paid on a per user, per month basis.
Discussing his approach to desktop as a service during the Cloud Industry Forum conference stream at Cloud Expo, Sumeet Sabharwal, group vice-president and general manager at NaviSite, a Time Warner Cable company, said he worked with Airwatch to provide provisioning and governance for the company's cloud desktop service.
According to Sabharwal, this approach moves beyond basic application stream to offer personal workspaces streamed to the user, along with user segmentation – allowing IT to control which applications can be accessed.