Desktop strategy in 2014 to focus on mobile business
A shift in IT strategy in 2014 is expected to lead to a move away from the desktop to supporting mobile technologies in European enterprises
A shift in IT strategy in 2014 is expected to lead to a move away from the desktop to supporting mobile within European businesses.
In the Computer Weekly/TechTarget IT Priorities survey of 440 IT decision-makers in Europe, 36% said they would be implementing mobile initiatives during 2014.
The survey found that of the 440 people asked, 43% said they would be implementing tablet devices in their organisations during 2014, while 41% said they would be implementing smartphones.
This should come as no surprise, given the continued decline in PC sales. Gartner reported that PC shipments in Europe totalled 25.8 million units in the fourth quarter of 2013, a 6.7% decline from the same period in 2012.
The use of mobile computing in the enterprise is certainly increasing. In fact, 121 out of 180 people (67%) said they would be deploying laptops, smartphones or tablet devices in 2014 (see chart).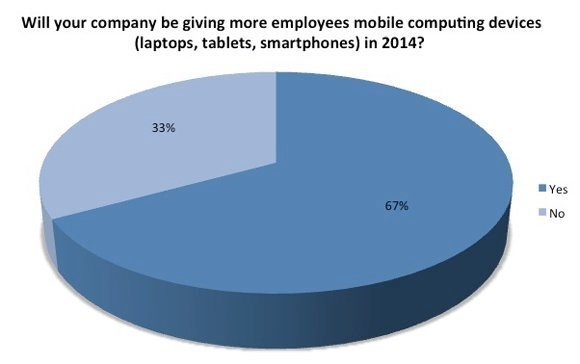 Of the remainder (33%), the majority of people asked (40%) said they had already deployed mobile devices, while 30% admitted that only specific departments would be given mobile devices.
Given the decline in PC sales, and in particular laptops, it is interesting to see a continued push to deploy Windows 7 on PCs. Almost a third of the 215 people asked said they would be deploying Windows 7 in 2014, suggesting that there are still plenty of people running the older XP operating system which will be unsupported after 8 April.
Desktop virtualisation (23% of respondents) and application virtualisation (20%) are two approaches IT departments can take to keep running XP and XP applications after the end of support deadline.
More survey results
With the interest in mobile deployments during 2014, the survey showed that a quarter of IT professionals asked said they would be implementing some kind of bring your own device (BYOD) or equivalent end user computing strategy.
Accommodating user demand to integrate tablet devices into the corporate network is the main goal for 81 of the 185 IT professionals asked (45%).
But clearly there are security concerns.
Over a fifth of the 403 people asked (22%) said they would be implementing mobile security. However mobile virtualisation, which can be used to segment a device so that corporate data and apps are protected, is still not making a major impact among the people surveyed.
Just 7% said they would be implementing mobile virtualisation, which could be because the technology is regarded as relatively new in comparison with the more established methods of securing these devices using mobile device management.