Virtualisation and datacentre consolidation still top priorities for UK IT
Many UK IT professionals are still prioritising virtualisation and datacentre consolidation over cloud computing in 2013
Many UK IT professionals are still choosing virtualisation and datacentre consolidation over cloud computing as their top infrastructure priorities for 2013.
A large majority (71%) of IT executives said they would use on-premise hardware or software deployment models for 2013, according to a TechTarget and Computer Weekly study of nearly 400 UK IT professionals on IT priorities for 2013.
This compared with just 30% citing software-as-a-service (SaaS), 19% choosing platform-as-a-service (PaaS) and 13% selecting public cloud as their deployment model for 2013.
Nearly half (49%) of the respondents said they would focus on server virtualisation implementation this year, while 36% cited datacentre consolidation as their top priority.
In contrast, private cloud was selected as an IT priority by just 14% of respondents, while 11% chose integrating with an external cloud and 5% chose migrating to cloud email.
Virtualisation and datacentre consolidation are seen as the first step towards moving to a cloud-based infrastructure – virtualisation helps enterprises to reduce the cost of IT hardware, while datacentre consolidation helps them to control IT sprawl and rationalise the infrastructure.
UK organisations will continue to invest in their in-house datacentres, the study found, with 43% saying their hardware budgets will increase, compared with 30% who said their budget for cloud services will increase in 2013.
Key priorities for IT projects within the internal datacentre were business continuity and disaster recovery (39%), storage virtualisation (36%), backup for virtual servers (42%), and upgrading to Windows Server 2012 (23%) and VMware vSphere 5.1(22%).
A small proportion of IT professionals (14%) said they were looking to implement energy-efficient systems within datacentres or focus on green IT in 2013.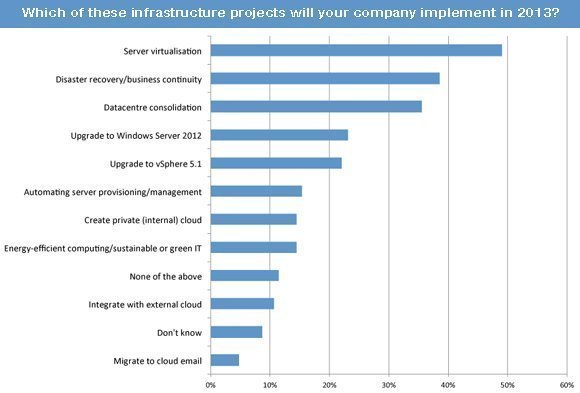 Even when it came to security priorities, virtualisation security and application-based security ranked higher than cloud security, indicating that not many UK organisations have started using cloud computing despite the hype around it.
For those IT executives who plan to use cloud computing services in 2013, software as a service (SaaS) was the top priority for 55%, datacentre as a service for 12% and security as a service for 16%.
Other 2013 IT priorities for UK enterprises included implementing desktop virtualisation, migrating to Windows 7, and planning BYOD policies.
One shocking revelation was that despite increasing hardware investment in internal datacentres, about 30% of IT executives said they had no plans around big data management and analytics in 2013, while another 16% did not know about their organisations' big data management plans.
Read more on Datacentre performance troubleshooting, monitoring and optimisation