Business continuity brings strategic gains
UK and other European companies are beginning to reap benefits from business continuity management...
UK and other European companies are beginning to reap benefits from business continuity management that are not directly related to faster recovery after disruptive incidents, a survey has revealed.

Download this free guide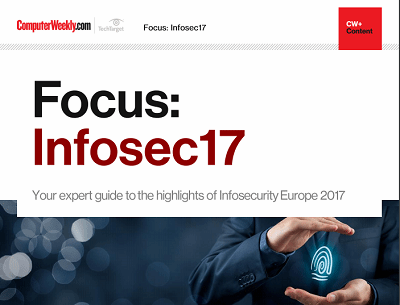 From forensic cyber to encryption: InfoSec17
Security technologist Bruce Schneier's insights and warnings around the regulation of IoT security and forensic cyber psychologist Mary Aiken's comments around the tensions between encryption and state security were the top highlights of the keynote presentations at Infosecurity Europe 2017 in London.
By submitting your personal information, you agree that TechTarget and its partners may contact you regarding relevant content, products and special offers.
You also agree that your personal information may be transferred and processed in the United States, and that you have read and agree to the Terms of Use and the Privacy Policy.
The survey, conducted by insurance and risk advisory firm Marsh, showed 96% of business continuity and risk managers polled reported at least one other benefit from implementing a business continuity management plan, and 52% reported two or more other benefits.
Half the respondents to the online survey said they had a better understanding of their business and 37% said their strategic decision-making had improved as a result of implementing a business continuity management plan.
Martin Caddick, leader of Marsh's business continuity management team, said the survey showed progress from when companies accepted the need for business continuity management merely to recover disrupted business processes.
"Most firms are not viewing business continuity management as a compliance or insurance-related issue, but as good practice to manage their overall operational risk," he said.
The survey results, he said, indicated that many businesses were beginning to understand the operational value of business continuity management and were starting to focus on the strategic benefits.
Marsh's report highlights these benefits, including the ability to spot risky interdependencies, better allocate resources to key processes, and improve risk management.
The report's view that a more mature and integrated approach to business continuity management can yield significant advantages to organisations through better strategic decision-making and not just risk mitigation, was a common theme that emerged at this/last week's Business Continuity Expo and conference in London.
Speakers at the event emphasised the strategic benefits of business continuity management such as giving a competitive edge, demonstrating good corporate governance, attracting better insurance terms, ensuring regulatory compliance, and providing increased protection and assurance to staff and management.
Business continuity: the expert view >>
IT sector continuity below-par >>
Read more on IT risk management