Four Facebook users fuel Sophos security scare
The lighter side of IT
Four Facebook users fuel Sophos security scare
Companies with something to sell have a remarkable habit of plucking up convincing statistics. In fact, 93% of all statistics are plucked up.
Other statistics, taken from "independent" surveys, may not be as convincing as they sound. It all depends on who you ask. And if you are selling anti-virus software, ask Facebook users.

Download this free guide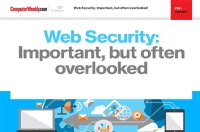 3 key web security guidelines from FS-ISAC
We address the ongoing issues regarding web security for businesses relying on an online presence. Download this e-guide and discover how to identify and address overlooked web security vulnerabilities as well as why you should look at the full security development lifecycle to reduce web threats.
Sophos took a snapshot of 200 users in Facebook's London network and found that 75% allowed their profiles to be viewed by someone, regardless of whether they had agreed to be friends.
"Worryingly for businesses, 25%, which could equate to as many as 300,000 users in the London network, revealed information relating to their work - details that could potentially be used by cybercriminals in their attempts to commit corporate ID fraud or to infiltrate company networks."
Rather worryingly, another survey showed that 100% of cybercriminals are prepared to give 110% to exploit the information. Four Facebook users are said to be very nervous.
Read more on Hackers and cybercrime prevention