Users thrash out green storage
Power and cooling concerns, once the province of server administrators, are on the rise among storage users.
The buzz so far at this year's Storage Networking World (SNW) is electric -- literally.

Users heard a presentation Monday morning by Microsoft senior program manager S.W. Worth on "green storage." And, the word in the halls of the conference afterward was that while storage has yet to reach the power and cooling crisis servers have brought to data centers in recent years, it is well on its way.

Download this free guide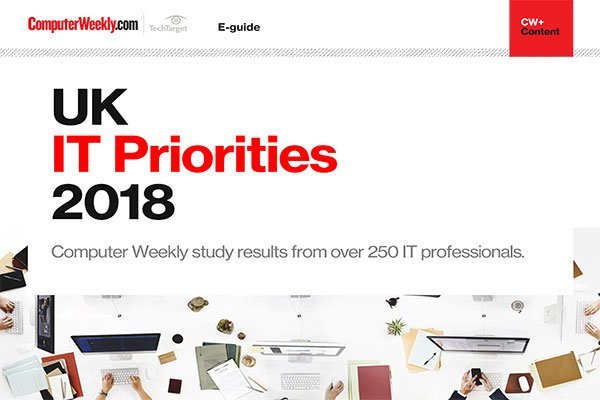 UK IT Priorities 2018 survey results
Download this e-guide to discover the results of our 2018 UK IT Priorities survey, where IT leaders shared with us what they are going to be investing in over the coming 12 months.

By submitting your personal information, you agree that TechTarget and its partners may contact you regarding relevant content, products and special offers.

You also agree that your personal information may be transferred and processed in the United States, and that you have read and agree to the Terms of Use and the Privacy Policy.

Worth mentioned the electricity rebate program offered by California's Pacific Gas and Energy (PG&E) to high-tech users for cutting down on power consumption, but pointed out, "not once in all the publicity around that program was the word storage mentioned until about one week ago. We've been behind on this issue as a storage industry."

However, he added, operational expenses, or total cost of ownership (TCO), are beginning to come even with capital expenses (initial purchase price) when it comes to storage products, and power consumption has a lot to do with it. "Operational expenses will overwhelm capital expenses as soon as this year in some places," Worth said.

Recent reports by analysts have also backed up this trend. Gartner predicts that within the next several years, half of the world's data centers will become obsolete because of power and space restrictions, and that energy costs will eat up to one-third of IT budgets. IDC said that already, IT organizations are spending a quarter of every hardware dollar on power.

Worth also said that users can expect to see an environmental push from storage vendors as "green" compliance standards make their way from Europe to the U.S. -- Restriction of Hazardous Substances (RoHS) compliance is already de facto here, he said, since most vendors also do business in Europe.

Meanwhile, show attendees, particularly those from big companies, said they have already experienced power and cooling issues in their data centers, though most said it had not yet been systematically addressed in the way that most organizations have dealt with server power consumption.

"Heat is my biggest problem right now," said Stephen Warner, executive director of IT infrastructure for Quest Diagnostics, who gave a presentation about file virtualization that morphed during a Q&A session into a discussion of power and cooling issues. Part of the reason his company implemented a three-site virtualization and replication scheme for file systems using Acopia Networks 's ARX switch, Warner said, is so that it can switch which data center is "active" at regular intervals throughout the year in order to spread power demands and heat among the geographically separate facilities.

"We're just moving heat around," Warner said. The company has also implemented a system that cuts off 63% of the power to inactive file servers under the virtualization scheme, he said.

But when it comes to storage area network (SAN) systems, which comprise the vast majority of the 900 terabytes (TB) of data under management at Quest, Warner said, administrators are struggling to adequately cool big arrays, like EMC's DMX. "They're almost like stoves on top," he said.

No clear solution

While there's growing recognition of the problem, however, there is little consensus on what to do about it. Some users said they thought the introduction of chargeback for electricity with storage systems could help address the problem. "I think as time goes on, that kind of accounting is emerging further [within companies]," said Neil Kassal, senior analyst, distributed systems for U.S. Airways.

But one user who's tried it said chargeback can backfire. According to Karl Lewis, storage administrator for the University of Michigan College of Engineering, the university has centralized server resources in a main data center and instituted chargeback for power usage -- only to see some end users "hide" systems in order to avoid having to pay the power fee.

Kassal and several other users at the show also pointed out that right now, the emerging problem of energy is difficult to prioritize over ongoing projects, from disaster recovery (DR) to implementing virtualization products, and it remains impractical to make power efficiency the chief differentiator when choosing a storage product.

For example, according to a server engineer from a major media company, who asked not to be identified, a four-year-old Hewlett-Packard Co. (HP) XP1024 is drawing a disproportionate amount of power in his data center. "But the thing just works," he said. "How are you going to tell [the admins] that everything about that system has been reliable, but it's going to have to be replaced with something cheaper because of the power issue? It's just not going to happen."

Outlook was also mixed on the ability of data management strategies to effectively solve the problem. Users at this conference remained skeptical about MAID -- "a great way to double your failure rate," one said -- and added tiered storage wouldn't solve the problem, as it only adds more systems to the data center, not less. However, some users predicted tightening legal and compliance requirements around data retention might make an impact, since companies could be legally liable for how they manage data.

Looking to vendors to take the reins

Ultimately, several users said they thought the onus is on storage and systems vendors to address power efficiency at the component level. "Blade servers have allowed for much greater space efficiency in the data center, but what that means is you end up packing the same power draw into a fifth of the space," said a systems engineer for a biotech company in California, who also asked not to be named. "The systems industry focused on the smaller form factor with blade servers and 2.5-inch disks, but seemed to forget about lowering the power draws in proportion." As the storage industry also eyes a move toward the 2.5-inch form factor, and as arrays, too, grow more densely packed, the user said it is imperative for storage vendors to do a better job at dealing with the increase in "power density."

The good news on that front is that some storage vendors do appear to be jumping on the green bandwagon and have increasingly been working environmental issues into their marketing messages. So far this year, both Pillar Data Systems and Copan Systems have been pushing the green message, and as of last week, both companies announced they had joined the Green Grid, an IT industry association devoted to environmental causes. But whether these turn into real energy saving efforts is still up for debate.

"I believe there will be solutions," said Jeff Blomendahl, systems engineer for the University of Kansas Medical Center. "When I first started out in IT, a 150 MB drive was something that had its own power supply. Now, I carry around USB keys that can hold several gigabytes without drawing any power at all."
Read more on IT for small and medium-sized enterprises (SME)