Government to recruit IT project management swat team
The UK government's chief information officer Ian Watmore is to recruit a "heavy-hitter brigade" of experienced professionals who...
The UK government's chief information officer Ian Watmore is to recruit a "heavy-hitter brigade" of experienced professionals who can help prevent IT projects from failing.

Download this free guide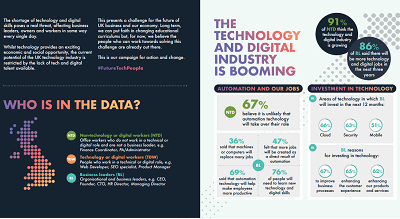 Infographic: How to future-proof UK technology
There is no doubt that the technology industry is booming right now, bringing with it exciting social and economic opportunities. However, there is a real fear that the UK industry may be stunted due to the lack of talent available. This e-guide helps to break down the future fears and expectations of dozens of business leaders and tech workers.
The team will be managed by Watmore's e-government unit, and can be deployed to work on projects at short notice. It will be paid for by the departments and agencies which need them.
Watmore hopes that the idea of working on different projects and programmes, will attract top business change specialists to join the team. The brigade will intitally comprise of about six to 10 people.
"They will have to be rigorously assessed for experience and capability. We do not have a problem with lack of demand," said Watmore.
Details of the heavy-hitter brigade plan were given by Watmore when he revealed what happened at the first meeting last week of a new super-group of about 30 CIOs from central and local government, and the wider public sector including the NHS.
Watmore said that the UK's government's projects and programmes are "probably as challenging as anywhere on the planet".
He added that government is "inherently more complicated in terms of what it tries to do with IT than the private sector" and does so on a bigger scale.
"In the UK we do a lot of things at a national level with our 60 million citizens and very, very few private sector companies get above 20 million customers. Most countries that are bigger than us tend to fragment things down to a regional and local level that we do nationally."
Watmore said one of the biggest concerns of the CIO Council was that "at best we have a low public perception of our capability". The perception of the public and Parliamentarians is that government rarely implements large IT-related projects successfully.
"We want to do something about it. Equally it has never been more strategically important to the government and citizens that we get this right."
Watmore and the team also expect to advise departments and ministers on the feasibility of projects and programmes before they are given the go-ahead. They also want to manage "proactive troubleshooting of projects before they get into difficulties".
"Too often these projects surface when they have gone wrong and therefore they are difficult to deal with at that point," he said.
One of the council's first priorities will be writing a government-wide IT strategy. It is expected to meet three times a year.