Jpeg handling flaw threatens PCs, Microsoft warns
A flaw in the way many Microsoft applications process Jpeg images could allow an attacker to gain control over a computer running...
A flaw in the way many Microsoft applications process Jpeg images could allow an attacker to gain control over a computer running the software, the company has warned.

Download this free guide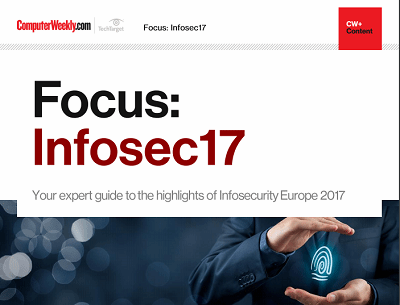 From forensic cyber to encryption: InfoSec17
Security technologist Bruce Schneier's insights and warnings around the regulation of IoT security and forensic cyber psychologist Mary Aiken's comments around the tensions between encryption and state security were the top highlights of the keynote presentations at Infosecurity Europe 2017 in London.
By submitting your personal information, you agree that TechTarget and its partners may contact you regarding relevant content, products and special offers.
You also agree that your personal information may be transferred and processed in the United States, and that you have read and agree to the Terms of Use and the Privacy Policy.
Any program that processes Jpeg images could be vulnerable, Microsoft said in Security Bulletin MS04-028. To take advantage of the flaw, an attacker would have to persuade a user to open a specially crafted image file. The image could be hosted on a website, included in an e-mail, Office document or hosted on a local network.
A wide range of Microsoft software, including various versions of its Windows and Office products, is vulnerable. Additionally, applications created with Microsoft's Visual Studio developer tool or the .net Framework and third-party applications that distribute their own copy of the vulnerable Jpeg parsing engine may also be vulnerable, Microsoft said.
Microsoft made available software updates to correct the flaw in its products. The software maker also offers a tool to scan a PC for certain installed products that are known to contain the vulnerable Jpeg image processing engine.
Microsoft rates the flaw "important" for many of its products, but "critical" for Outlook versions 2002 and 2003, Internet Explorer 6 with Service Pack 1, Windows XP and Windows XP with Service Pack 1, Windows Server 2003, and the .net Framework 1.0 with Service Pack 2 and .net Framework 1.1.
In Microsoft's rating system for security issues, vulnerabilities that could allow a malicious internet worm to spread without any action required on the part of the user are rated critical. Issues that will not lead to the spread of a worm without any action taken by the user, but could still expose user data or threaten system resources, are rated important.
The Jpeg flaw was reported privately to Microsoft and it was not disclosed prior to the release of the warning and patches. There have been no reports of the issue being exploited, Microsoft said.
In addition to the Jpeg issue, Microsoft, as part of its monthly security patch release cycle, warned of a flaw in the WordPerfect 5.x Converter that it supplies as part of Office 2000, Office XP, Office 2003 and recent editions of its Works Suite.
The WordPerfect converter flaw, which Microsoft rates "important", could allow an attacker to gain full control over a victim's PC. A software patch is available for the vulnerable products to fix the problem.
More information on the WordPerfect converter issues is at: www.microsoft.com/technet/security/bulletin/ms04-027.mspx
Joris Evers writes for IDG News Service
Read more on IT risk management