Sun's new servers will fit ultrasparc IV for low end-market
Sun is preparing to launch two systems that will make its UltraSparc IV processor available for the low end of its server product...
Sun is preparing to launch two systems that will make its UltraSparc IV processor available for the low end of its server product line.
The Sun Fire V490 and V890 servers are similar to Sun Fire V480 and V880 servers, which are based on single-core UltraSparc III processors.
They have been redesigned to accommodate the cooling and power requirements of the dual-core UltraSparc IV line of processors, said Andy Ingram, vice-president of marketing for Sun's Processor and Network Products Group.

Download this free guide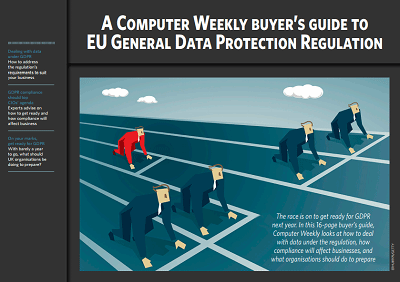 Computer Weekly's Buyer's Guide to GDPR
The race is on to get ready for GDPR next year. Computer Weekly looks at how to deal with data under the regulation, how compliance will affect businesses, and what organisations should do to prepare.
Users will find that the systems behave the same way as their UltraSparc III counterparts but with "twice the throughput", he said. "What you're going to get with the [V890] is the footprint and price point of an 8-way with the throughput of a 16-way."
The new systems will be priced "in the same range" as the V880 and V480, Ingram said, though he declined to be more specific.
Although they cannot be ordered on Sun's website, the company actually began shipping the new systems in August, Ingram said.
When Sun launched its first UltraSparc IV systems in February, it focused on big systems with between 12 and 72 processors. It introduced the new processor on its high-end Sun Fire E25K and E20K servers as well as the midrange Sun Fire E2900, E4900 and E6900 systems.
The UltraSparc IV currently is available in both 1.05GHz and 1.2GHz configurations. Sun plans to offer an UltraSparc IV "speed bump" within nine months and, within 18 months, the company expects to begin shipping systems with the next generation of the processor, called UltraSparc IV+.
The UltraSparc IV+ will mark the end of the road for Sun's conventional UltraSparc designs as it switches to the multicore "throughput computing" chips it is now developing. The throughput computing chips are being designed to execute a large number of operations, or threads, simultaneously.
By 2006 - around the time Sun is expected to come to market with the first generation of its throughput computing processors, code-named Niagara - it will also begin shipping systems based on an upcoming generation of Fujitsu's Sparc64 processor, code named Olympus. Olympus will also be a multicore processor, but it is expected to have twice the performance of the UltraSparc IV+.
Olympus will fill the role that Sun had expected to be served by UltraSparc V processor, which it scrapped in April.
The launch of the two new systems brings UltraSparc IV to a section of the market that has become extremely important to Sun, said Gordon Haff, an analyst with industry research company Illuminata.
"They've kind of done the enterprise systems; now they're doing the high end of the volume space," he said. "Those have been pretty important classes of products for them. In fact, it's probably one of the few really bright spots in the UltraSparc line over the past year or so."
Haff expects Sun to eventually bring the UltraSparc IV to its single-processor and dual-processor Sun Fire systems as well, though Sun has not said when it plans to do this.
Read more on Server hardware