Homeland security stepped up for elections
New IT systems have been deployed ahead of schedule to ensure that the US government is capable of managing any security crisis...
New IT systems have been deployed ahead of schedule to ensure that the US government is capable of managing any security crisis that might arise during this summer's political conventions, according to secretary of homeland security Tom Ridge.

Download this free guide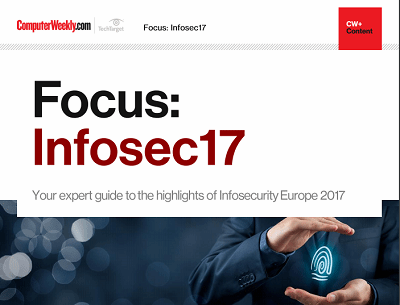 From forensic cyber to encryption: InfoSec17
Security technologist Bruce Schneier's insights and warnings around the regulation of IoT security and forensic cyber psychologist Mary Aiken's comments around the tensions between encryption and state security were the top highlights of the keynote presentations at Infosecurity Europe 2017 in London.
By submitting your personal information, you agree that TechTarget and its partners may contact you regarding relevant content, products and special offers.
You also agree that your personal information may be transferred and processed in the United States, and that you have read and agree to the Terms of Use and the Privacy Policy.
Ridge said credible intelligence reporting indicates that "al-Qaeda is moving forward with its plans to carry out a large-scale attack in the US in an effort to disrupt our democratic process". Intelligence officials said the terror group's leadership, including Osama bin Laden, believed that its attack in Madrid had pushed voters there to oust the incumbent government, a supporter of the war in Iraq.
Ridge said the department has "full nationwide connectivity" to a new operations centre, which was a "nerve centre for homeland security information and incident management". He also said homeland security directors in all 50 states have direct access to the department through a recently deployed information network, known as the Joint Regional Information Exchange System.
By the end of the year, the department will have the deployed firewalls that allow officials to share secret-level data on the network, he said.
"The most advanced technologies, including the newly created internet-based Homeland Security Information Network, allow us to maintain up-to-the-minute information, to map that information against our critical infrastructure and known threats, and then share it instantly with the White House, all 50 states, more than 50 major urban areas, and thousands of state and local agencies," said Ridge.
The department also plans to begin a pilot programme that uses technology to track high-risk trucks on the nation's highways, according to Ridge, and has begun to deploy the first of thousands of handheld radiological detectors, the size of an average pager, for use by law enforcement officers to locate and prevent the use of so-called dirty bombs.
It also plans to monitor high-risk chemical facilities via web-enabled perimeter cameras linked directly to the homeland security operations centre.
Dan Verton writes for Computerworld
Read more on IT risk management