More shrinkage for Sony Vaio U
Sony has redesigned its Vaio U personal computer by removing the keyboard and reducing the display size to come up with a...
Sony has redesigned its Vaio U personal computer by removing the keyboard and reducing the display size to come up with a tablet-style PC about the size of a paperback book.

Download this free guide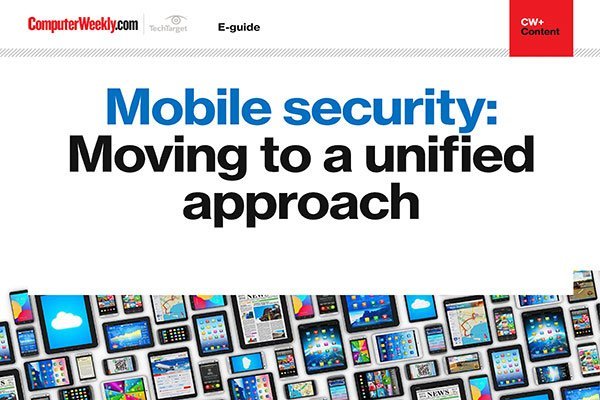 3 expert insights into how mobile security is evolving for business
Download this e-guide to read expert insights into how the current trends in mobile security strategy are showing a move from mobile device management, to enterprise mobile management and unified endpoint management - indicating an evolution towards a unified approach to mobile security.
The front face is dominated by a five-inch TFT LCD. The case is rectangular in shape and is designed to be held horizontally, so the user's thumbs are near a small number of control buttons positioned either side of the display. The screen resolution is 800 pixels by 600 pixels (SVGA) although the machine can drive an external monitor at a higher resolution.
The new Vaio U is available in two models, the VGN-U50 and VGN-U70P, with the latter having generally higher specifications.
The U50 is based on the ultra low voltage (ULV) version of Intel's Pentium M processor running at 900MHz, has 256Mbytes of DDR (double data rate) SDram (synchronous dynamic RAM) and the Windows XP Home Edition operating system.
The U70P has a 1GHz version of the same processor, double the main memory and Windows XP Professional Edition.
On the networking side, IEEE802.11b/g wireless is built in and the computer has a single USB (Universal Serial Bus) 2.0 port. Four additional USB sockets, an IEEE1394 (FireWire) socket and Ethernet socket, among others, are available via a port replicator.
Compared with the existing Vaio U model, which was already the smallest PC offered by Sony, the U50 represents a considerable reduction in size and weight. It measures 167mm by 108mm by 26.4mm, which is smaller in each dimension than the U101. The U50 weighs 550 grams compared with 880 grams for the U101.
One consequence of making the machine more compact has been a reduction in battery life. The standard battery in the new computer on a full charge should provide enough power for up to 2.5 hours of use. The standard battery on the U101 enabled between three hours and 5.5 hours of use.
Sony will launch the U50 in Japan on 29 May at a price around ¥179,000. Launch details for the U70P, which will be available exclusively through Sony's online shopping site, were not announced. There are no plans as yet to sell either computer outside Japan.
Martyn Williams writes for IDG News Service
Read more on Mobile hardware