EU prepares to debate P-to-P file-sharing
Sharing music over the internet could become a criminal offence if some members of the European Parliament get their way in a...
Sharing music over the internet could become a criminal offence if some members of the European Parliament get their way in a debate this week concerning a draft law designed to stamp out mass-pirating and counterfeiting of digital products.

Download this free guide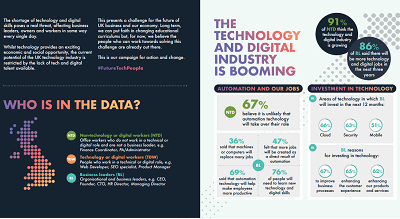 Infographic: How to future-proof UK technology
There is no doubt that the technology industry is booming right now, bringing with it exciting social and economic opportunities. However, there is a real fear that the UK industry may be stunted due to the lack of talent available. This e-guide helps to break down the future fears and expectations of dozens of business leaders and tech workers.
Instead of focusing on law breakers as the European Commission intended, the parliament's legal affairs committee wants to stretch the proposal to include peer-to-peer exchanges of digitised music. The proposed changes to the intellectual property rights enforcement directive collide head-on with citizens' rights to privacy, and have angered consumer groups and legal academics.
ISPs are also opposed to the changes to the bill because they would be required to snoop on their subscribers or face fast-track injunctions in the courts to reveal private information. A provision of the enforcement bill would subject ISPs to criminal sanctions if they failed to provide information to copyright holders about subscribers who may be infringing copyrights.
''The balance between privacy of subscribers and the duty to co-operate with right holders seeking to protect their intellectual property that was reached in the e-commerce directive could be changed by this directive,'' said BT European regulatory manager Tilmann Kupfer.
No one on either side of the debate doubts that counterfeiting, the main target of the new law, is a major problem. According to the European Commission, counterfeiting and piracy cost the union €8bn annually in lost economic output between 1998 and 2001.
According to the International Federation of Phonographic Industries, a third of all music CDs sold around the world last year were counterfeit.
The music industry joined forces with the film industry last year to complain that the European Commission's proposal, which limited enforcement measures to breaches of copyright "for commercial purposes", was too soft.
Even though the proposal granted rights holders criminal legal tools to pursue pirates across the EU, this was not enough for music and film companies, because it ''failed to introduce urgently needed measures to hold back the epidemic of counterfeiting".
"The commission's proposal fell short of international requirements agreed at the World Trade Organisation," said Ted Shapiro, director of the European Motion Picture Association.
International intellectual property protection rules called Trips (Trade-Related Aspects of Intellectual Property Rights) of the WTO urges WTO members to impose criminal sanctions, such as imprisonment, for people who counterfeit goods for commercial gain.
Shapiro admitted that by stretching the proposed EU law to catch file shares, the European parliament is going beyond the Trips agreement. "You could say the amended version is Trips-plus," he said. Nevertheless he supported the parliament's changes, calling them "a useful tool."
The European NetAlliance, which includes BT, Deutsche Telekom, Vodafone Group, MCI, Verizon Communications and Yahoo, have warned of the risks that a widening of the directive would pose. "It must be ensured that consumers are not placed on the same level as parties that violate copyright for commercial gain or as members of organised crime," the alliance said.
Similar words of warning were voiced by legal experts, who expressed concern that EU lawmakers have gone too far in their efforts to protect copyright holders by pushing for a law that goes beyond piracy and counterfeiting.
William Cornish, a professor at the University of Cambridge, and Josef Drexl, Reto Hilty and Annette Kur from the Max Planck Institute in Germany wrote in an article published in the European Intellectual Property Review: "Haste and political pressure from interest groups do not make for good counsel when it comes to regulating complex and sensitive fields like that of sanctions and procedural measures for IP (intellectual property) protection.''
Consumer groups have also weighed in. "We are worried that the current European parliament text would allow consumers to be prosecuted, judged and condemned as harshly as a person making and selling millions of copies of CDs," said the Bureau Européen des Unions de Consommateurs. "We do not see why a consumer downloading music from the Internet to make a private copy for personal and noncommercial use should be prosecuted at all."
National governments are also unhappy about criminalising file sharers. One EU diplomat said the Council of National Government Ministers may agree to stretch the directive to cover file sharers, but only if criminal sanctions against P-to-P exchanges of content such as music and movies are dropped.
The council, parliament and the commission have held four meetings this year to try to reach a swift conclusion to the debate. All three institutions want the directive agreed to at first reading in the parliament before March when the parliamentarians leave Brussels to campaign for re-election.
The EU diplomat admitted that efforts to push the directive through before the recess could be "overly hasty". He criticised the commission for not doing its homework before proposing the directive a year ago. "A little more consultation would have been useful," he said.

The parliament hoped to put the proposed directive to a vote towards the end of February. However, the topic has already been added and removed from the plenary agenda several times. Many critics of the bill say it would be sensible to delay it again.
Paul Meller writes for IDG News Service
Read more on IT legislation and regulation