AMD prepares for Athlon64 launch
The long-awaited launch of AMD'S Athlon64 processor is less than a week away, and it is only a matter of time before rival Intel...
The long-awaited launch of AMD'S Athlon64 processor is less than a week away, and the company claimed it is only a matter of time before rival Intel duplicates AMD's approach.

Download this free guide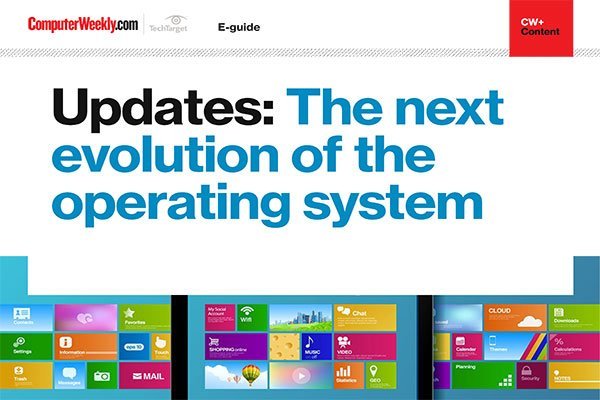 Software Updates: Our latest e-guide is available for your device. Download now?
See how operating systems are evolving with the help of continuous updates and learn about how the Spectre and Meltdown microprocessor flaws have led to improved, more secure processors being released and how Microsoft is evolving its Windows desktop operating system.
By submitting your personal information, you agree that TechTarget and its partners may contact you regarding relevant content, products and special offers.
You also agree that your personal information may be transferred and processed in the United States, and that you have read and agree to the Terms of Use and the Privacy Policy.
The Athlon64 can run both 64-bit and 32-bit applications on a PC with a 64-bit operating system. The idea is to give users excellent 32-bit performance right away, and allow them to migrate to 64-bit applications when they are ready, said John Crank, senior brand manager for AMD's Athlon product line.
AMD will launch the chip on Tuesday (23 September). Desktop and notebooks will also be available with the processor.
Many in the industry are sceptical that users need 64-bit performance at this stage, but AMD thinks it can drive a set of applications by bringing 64-bit technology to the masses.
The processor uses a instruction set, AMD64, which was developed by adding 64-bit instructions to the x86 instruction set used in AMD and Intel processors for several years.
"We will have established AMD64 as the de facto standard for processors by the time Intel jumps on board," Crank said.
Executives at Intel believe the market for 64-bit computing is several years away, and have said they will address the market when it is ready, but have offered no details about how they do so.
Intel president and chief operating officer Paul Otellini did not dismiss the idea of 64-bit extensions to a 32-bit desktop processor, but he made it clear he disapproved of the idea at this time.
The Itanium server processor is Intel's lone 64-bit offering at this point. The chip uses a new instruction set that developers have to learn to port their 32-bit applications to Itanium servers.
Rather than trying to sell a processor that would require the rewriting of thousands and thousands of desktop applications, Intel will come out with a processor that uses the same approach to a hybrid 32/64 chip that AMD has adopted, Crank said.
Since only 5% to 10% of servers in the world have 64-bit capability, Intel is unsure why AMD thinks the desktop market needs this type of technology so quickly. Without operating system support from Microsoft until early 2004, AMD will have a hard time getting the chip off the ground, said an Intel spokesman.
Tom Krazit writes for IDG News Service