Network Associates debuts IntruShield product
Network Associates has announced its first release of IntruVert technology, a hardware appliance which provides intrusion...
Network Associates has announced its first release of IntruVert technology, a hardware appliance which provides intrusion detection prevention to mid-sized networks and corporate branch offices.

Download this free guide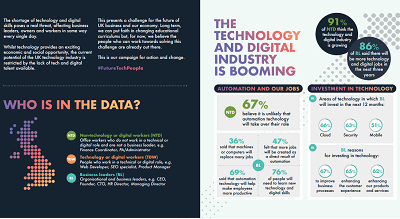 Infographic: How to future-proof UK technology
There is no doubt that the technology industry is booming right now, bringing with it exciting social and economic opportunities. However, there is a real fear that the UK industry may be stunted due to the lack of talent available. This e-guide helps to break down the future fears and expectations of dozens of business leaders and tech workers.
The IntruShield 1200 is a 1U rack-mount hardware appliance that will retail for $10,995.
Network Associates is touting the device as both an intrusion detection system (IDS) and intrusion prevention system (IPS) device.
On the IDS side, the IntruShield 1200 offers signature- and traffic-anomaly detection capabilities that allow it to detect denial of service attacks.
The 1200 qualifies as an "intrusion prevention" appliance because it is capable of running "in-line", disassembling and analysing data packets and stopping attacks in "real time" as they are occurring.

The 1200 uses the same technology as can be found on the high-end IntruShield 4000 device.
Unlike the 4000, which comes with two Gigabit Ethernet ports and six 100Base-T ("Fast Ethernet") ports, the 1200 sports just two 10/100 Ethernet ports and is designed for deployment in remote and branch offices rather than at the network core.
Like other IntruVert appliances, the 1200 comes with an operating system that has been hardened, eliminating unnecessary and vulnerable functionality for secure deployment, as well as a centralised, web-based interface for policy management and intrusion monitoring.
The IntruShield 1200 is the first release of the IntruVert technology under Network Associates' name and joins the IntruVert 4000 and 2600 in the company's stable of IDS devices.
The idea is to extend IDS protection out to locations such as branch offices vulnerable to attack, but which often lack the IT resources necessary to monitor network traffic.
Network Associates has released McAfee Entercept version 4.1 software, its host-based IDS product acquired from Entercept Security Technologies in April.
The latest version of Entercept features installation and configuration capabilities enabling administrators to adjust security levels more easily for protected host systems, improving protection for high-level threats and reducing false positives on low-priority threats, .
Along with its purchase of Entercept, Network Associates' purchase of IntruShield in April was seen as a way for the company to boost its presence in the market for IDS technology by acquiring host-based IDS products for the data centre as well as network-based IDS products for the network perimeter.
The release of the 1200 appliance also underscores the growing interest in preventative security that goes beyond signature detection to provide protection against threats such as the Slammer worm.
The IntruShield 1200 will be available on 15 August from Network Associates and its channel partners. McAfee Entercept version 4.1 will ship on 18 July and is available immediately for purchase online.
Paul Roberts writes for IDG News Service