Cable & Wireless to slash jobs and pull out of US
Cable & Wireless has announced £6.4bn losses and sweeping restructuring, including a complete exodus from its loss-making North...
Cable & Wireless has announced £6.4bn losses and sweeping restructuring, including a complete exodus from its loss-making North American business.
The strategy also calls for a key focus on its UK market where C&W, despite its relatively strong position, aims to improve its cost base by slashing 1,500 jobs.

Download this free guide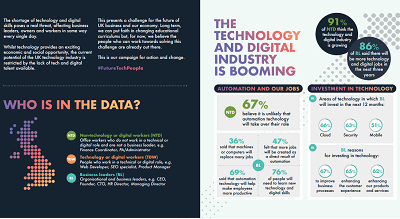 Infographic: Future-proofing UK technology
The current potential of the UK technology industry is restricted by the lack of tech and digital talent available. Read through this challenge for the future of UK business and our economy.
By submitting your personal information, you agree that TechTarget and its partners may contact you regarding relevant content, products and special offers.
You also agree that your personal information may be transferred and processed in the United States, and that you have read and agree to the Terms of Use and the Privacy Policy.
C&W's US customers will now have to start looking for an alternative provider of corporate voice and data services.
Chief executive officer Francesco Caio said C&W was losing around $1m a day. "We want to exit quickly but sensibly," he added.
Company officials declined to provide details of how they plan to sever their contracts and service-level agreements (SLAs) with US customers, claiming that such information is sensitive to their negotiating position.
"We intend to maintain the contracts and SLAs we've got with these customers while we explore our options," the company said in a statement. "We will communicate openly with our customers about this."
Julian Hewett, chief analyst, Ovum, said, "In four years, C&W has gone from an £8bn business with a 20% operating margin, to a £4bn loss-making business. The dream of becoming a global IP powerhouse has now been abandoned completely, with a promised return to being a group of "national" telcos."
Hewett added that C&W needed a "major change of culture" to make the new strategy succeed.
Sandra O'Boyle, an analyst at Current Analysis, said that large US internet customers of C&W with international operations, such as Yahoo and eBay, now faced complex decisions. "There are still enough service providers in the US, although the number of international providers is dwindling," she said. "C&W was never able to really challenge the big US players, such as WorldCom and AT&T and was losing money in this market."
C&W's move is, essentially, a u-turn on its strategy to become a global internet carrier with a particularly strong position in the strategic US market.
In 1998, C&W acquired the wholesale and retail Internet operations from MCI, which had been acquired by WorldCom. That deal involved more than 3,300 internet access customers, 60,000 dial-up business customers and 250,000 dial-up retail customers as well as more than 1,300 wholesale ISP (Internet service provider) customers.
John Blau writes for IDG News Service
Read more on IT supplier relationship management