Revenue gets tough on PC misuse
The Inland Revenue has sacked two staff for misusing their computers in a crack-down that could see tax officers disciplined for...

Download this free guide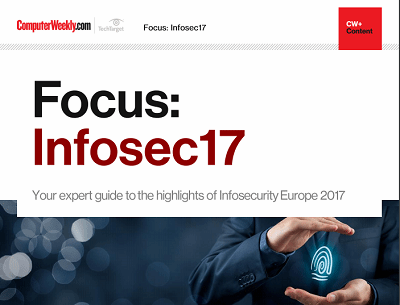 From forensic cyber to encryption: InfoSec17
Security technologist Bruce Schneier's insights and warnings around the regulation of IoT security and forensic cyber psychologist Mary Aiken's comments around the tensions between encryption and state security were the top highlights of the keynote presentations at Infosecurity Europe 2017 in London.

The Inland Revenue has sacked two staff for misusing their computers in a crack-down that could see tax officers disciplined for as little as e-mailing a greeting card.

An internal notice issued to tens of thousands of tax officials, signed by the Revenue's chairman Nick Montagu and Graham Steel, group secretary of the public sector union PCS, said they are "concerned about the number of instances of people misusing computers".

In January, Computer Weekly revealed that Revenue staff had been browsing the records of celebrities and other taxpayers. In rare cases staff sold information they had obtained illicitly.

Now the Revenue has issued a new IT security policy. It said, "There have been a number of instances where people have accessed customer records without authorityÉ You should be in no doubt that such misuse of computers will be regarded as a serious disciplinary matter. Two members of staff were recently dismissed following an investigation into their use of computers."

Although the Revenue accepted that some staff may have misused their computers without any knowledge of the department's IT security policy, it said, "From now on we will assume that everyone is familiar with the policy."

Unacceptable computer misuse includes using e-mail to send "Christmas or other greeting cards". Staff must not send by e-mail "personal or non-business messages, no matter how short, to large numbers of people", or attach any file from a floppy disc without first checking it for viruses.

Banned uses of the internet include share dealing and buying goods for business use without authorisation. Unacceptable websites include those that contain material which breaches copyright, contains details of how to undertake hacking or is pornographic. Screensavers are also banned.

Unless there are strong mitigating circumstances, dismissal will be the normal penalty for "deliberately accessing a customer record without having a proper and legitimate business reason for doing so" or "misusing information from a customer record".

Montagu said the few staff who engaged in browsing the records of celebrities did so from curiosity, but they would be left in no doubt by the new security policy that the Revenue would take disciplinary action against them.
Read more on IT risk management