Music group industry unveils tracking system for online sales
A music industry group has launched a tracking system for digital music files to keep tabs on internet music sales so that...
A music industry group has launched a tracking system for digital music files to keep tabs on internet music sales so that artists are compensated.

Download this free guide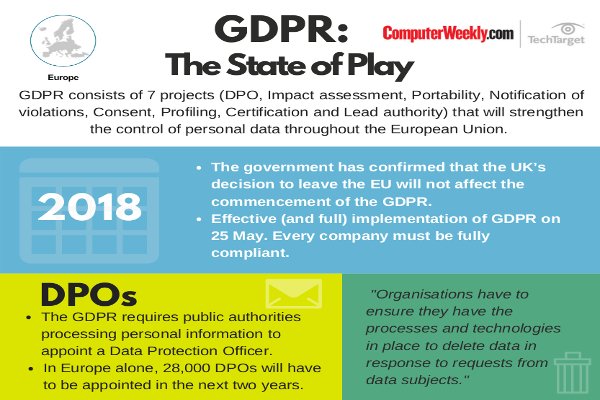 Infographic: GDPR - The State of Play
Get the latest information on how GDPR is going to affect your business and how to avoid any unwanted fines with this simple infographic.
By submitting your personal information, you agree that TechTarget and its partners may contact you regarding relevant content, products and special offers.
You also agree that your personal information may be transferred and processed in the United States, and that you have read and agree to the Terms of Use and the Privacy Policy.
The Global Release Identifier (GRid), is an electronic version of the Universal Product Code (UPC), the bar code scheme used to identify CDs and other physical products, the International Federation of Phonographic Industry (IFPI) said.
"While bar codes work well for physical sales, they can't deal with the vast number of tracks, bundles and other ways to package and sell music electronically," said Paul Jessop, chief technology officer at IFPI.
"Many more numbers are necessary. GRid is a scheme to assign a unique number to an electronic unit of trade, be it a single track, album tracks, bundles of tracks and multimedia arrangements."
Each of these electronic trade units will be distributed with a GRid serial number which, like a bar code on a CD, is reported back to rights societies and collection agencies to ensure that artists are compensated for sales.
GRid aims to track each time a record company, online retailer or distributor, such as an ISP, sells a song or group of songs in the form of a web stream or download.
The system could make life simpler for music publishers to sell online, said Forrester Research analyst Rebecca Ulph.
"As more music is sold and distributed over the Internet, the industry needs to integrate this sales channel into their operations, and that requires a way to track sales."
However, Ulph said the GRid tracking system "doesn't seem like a great step forward in curbing online music piracy".
Jessop said GRid is neither designed nor intended to keep track of music distributed via P2P file-sharing systems such as Kazaa, which the music industry blames for the decline in recorded music sales.
GRid is open to everyone involved in the delivery of audio content, including record companies, retailers and distributors. Those using the scheme will be charged £150 a year.
IFPI will administer the system on behalf of the music industry. The federation represents around 1,500 record producers and distributors in 76 countries.
Read more on IT legislation and regulation