ILA contract invited fraud
The contract with Capita was badly-written and monitoring rights were not enforced, reports Bill Goodwin

Download this free guide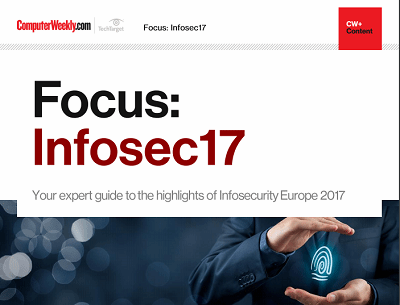 From forensic cyber to encryption: InfoSec17
Security technologist Bruce Schneier's insights and warnings around the regulation of IoT security and forensic cyber psychologist Mary Aiken's comments around the tensions between encryption and state security were the top highlights of the keynote presentations at Infosecurity Europe 2017 in London.

By submitting your personal information, you agree that TechTarget and its partners may contact you regarding relevant content, products and special offers.

You also agree that your personal information may be transferred and processed in the United States, and that you have read and agree to the Terms of Use and the Privacy Policy.

The contract with Capita was badly-written and monitoring rights were not enforced, reports Bill Goodwin



The Government's contract with IT outsourcing company Capita to run the ill-fated Individual Learning Accounts (ILA) scheme, failed adequately to assess the risk of fraud by unscrupulous training companies, an independent analysis for Computer Weekly has concluded.

The contract, a copy of which has been obtained by Computer Weekly, is generally "strong and robust" in its wording but pays little attention to the problem of fraud.

Outsourcing consultancy firm Morgan Chambers, which analysed the contract for Computer Weekly, said it was surprising that the possibility of fraud had not been considered further, given warnings from government officials before the scheme went live about the potential for abuse.

"The way it was drafted suggests that the [contract] was more concerned with the risks of internal fraud, rather than external fraud," said Richard Sykes, Morgan Chambers' chairman.

The contract exposed ILAs to the risk of fraud from the outset. It allowed a transition period during which learning providers could certify themselves without independent checks.

Capita was not liable for any incorrect payments during this time.

It also gave the Department for Education and Skills (DFES) extensive rights to monitor and audit the performance of Capita, raising questions about why the fraud was not discovered sooner.

Rights included regular inspections by the DFES or third parties acting on its behalf; the right to view all documentation held by Capita; rights to interview Capita employees and subcontractors; and access to Capita's computer databases.

It is not clear how far the department exercised these rights, and if it did, why the fraud was not uncovered.

Two minor changes to the contract could have put the Government in a stronger position before the ILA scheme began to unravel, according to the Morgan Chambers report:


The escrow contract could have allowed the DFES to check the integrity of Capita's software offline, which might have alerted it to security weaknesses


The DFES should have been able to withhold fees from Capita if fraud resulted from the supplier's negligence, focusing attention on the service provider's role and responsibilities.


A complete analysis of the contract is impossible, because key parts of it were withheld by the Government for "commercial reasons".

The extent of the omissions, which go beyond financial matters and include details of the services Capita was meant to provide and the original specifications for the contract, are surprising, Morgan Chambers said.

Ministers abruptly closed the scheme last November when it became clear that unscrupulous firms were exploiting weaknesses in Capita's computer systems to claim money for training they had not offered.
Read more on IT risk management